You can wander around and lose yourself in the beauty of these places without having to worry about burning your pockets. You can fulfill your wanderlust by traveling to these beautiful destinations that provide landscape beauty, outdoor activities, and many more attractions that give you memorable vacations in this part of India. Travel solo or with family and friends to these low Budget Tourist Places In India.
Places To Visit At Low Cost Holiday In India
Places To Visit At Low Cost Holiday In India
1. Kasol Solo Trip Budget
A part of Kasol is popular for its hippie culture. Kasol is trekkers paradise. Those who love nature, scenic views, and lush green can do it on a budget in Kasol. Kheer Ganga is a popular trek in Kasol. This is a 9 km trail to the lush green and beautiful meadows. This is one of the most tranquil treks you can have in Kasol. Camp here in the night and hop on next morning to another destination. Try some Israeli food, and shop on for some goodies of the hippie culture.
Manikaran Sahib is a Gurdwara nestled in the hills and its spring water is said to have healing properties. Tosh is a scenic hamlet where you can spend a day in the Malana village that is famous for its splendid beauty. Go stargazing in the night when you camp at the Parvati Valley.
2. Pondicherry Low-Cost Holidays India
Pondicherry is a heaven of its own with beaches, free stay in the ashram, budgeted stay in cottages, quaint life, excellent food, and a  different culture to experience. The French cuisine is a must try. Get a taste of French culture in Pondicherry. Since this city is on the coast, you can enjoy the sunrise and sunsets in the morning on the beaches. Try water sports such as snorkeling and scuba diving on the Paradise beach. There are many beaches that you can visit for some relaxing time.
Auroville is a must visit for peace and tranquility. This is also a township that is dedicated to mindful living. Go sailing, kayaking, or hire a boat house for some leisure time in the sea. Every activity you want to do costs less than 500 INR in Pondicherry. Get a stunning view of the sunset on the Rock beach. The Dune Eco Village is a must visit in Pondicherry.
3. Cheapest Vacations In Rishikesh
Amidst the sacred chants and Ganges river, there are many fun activities that you can do and also get a dose of spirituality. River rafting, bungee jumping, flying fox, and many other activities attract tourists to this place. Numerous outdoor activities are present here such as hot air ballooning, paragliding, Visit the Beatles ashram, experience the Ganga Aarti, go food shopping in the chill cafes of Rishikesh. A week spent in Rishikesh can be a different experience altogether.
4. Low Budget Tourist Places In India Darjeeling
The Tiger Hills is popular for its golden sunrise. The Kanchenjunga looks golden in its hue when the sun rays fall early morning on these snow-capped mountains. This is one of the most breathtaking views of Darjeeling not to be missed. You have to wake up as early as 3 AM to see this sight.
Visit the Buddhist monasteries in Gangtok which is closer to Darjeeling. The Darjeeling tea is famous for its flavor. Visit the tea gardens, the Batasia loop, trek on the highest point at Sandakphu and get a stunning view of the Kanchenjunga mountain peak, take a ride in the toy train, shop at the Bhutia market, and do not forget to carry warm clothes.
Read More: Best Place To Visit In Darjeeling City
5. Low Cost Holidays India McLeodganj and Dharamshala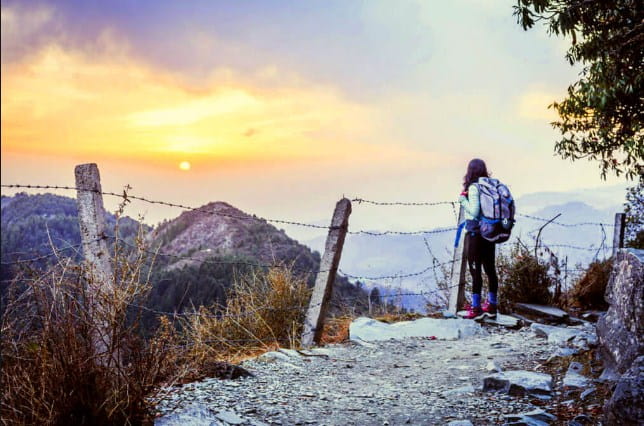 This is the place which you can visit anytime during the year. A popular town for trekking and sightseeing, get an insight into Tibetan and Buddhist culture. Lined with many monasteries and temples, this can be your spiritual and adventurous halt. Boat rides in Dal lake, shop at local markets for souvenirs and paintings, camp and hike at sites with stunning views and landscapes. The Triund trek is a popular trek in McLeodganj and Dharamshala. Stargazing is what you can do in the night.
Indulge in spa and wellness therapies, take cooking classes to learn traditional Tibetan dishes, and visit popular food joints and chill at these places. These cafes are colorful and offer a variety of scrumptious food and drinks.
6. Is Sikkim Expensive?  Low Cost Holidays India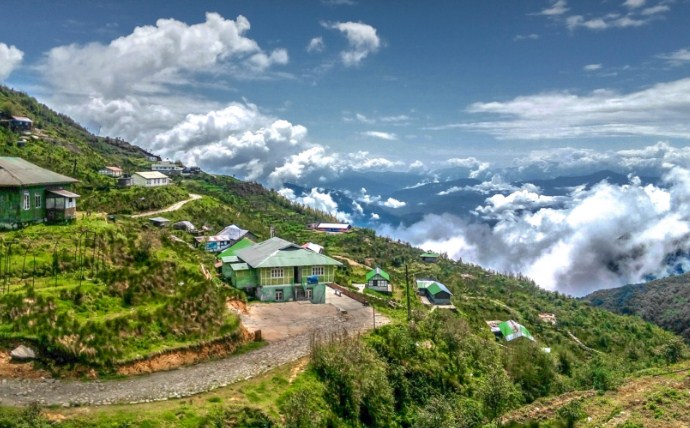 The snow-capped Sikkim is a place to visit for yak rides, exotic bird watching, trekking, monasteries, mountain biking, and more. The Goecha La trek is popular in Sikkim is an easy trek in the Himalayas that covers forests and beautiful meadows. River rafting in the river Teesta is for adventure junkies who love the thrills of riding through rough waters. Go birdwatching in the Maenam Wildlife Sanctuary. Enjoy the cable car ride in Gangtok. Enjoy the flower exhibition, dine out relishing the Tibetan food and let your hair down in the nightclubs.
Read More: Things To Do In Gangtok City
7. Nainital For Cheap Vacations
This is one of the quaint towns in Uttrakhand popular for being a romantic destination. You can take boat rides in the lake, get the beautiful view of the Himalayan range, visit the Nainital Zoo and meet bird and animal species. Eco cave gardens is a picnic spot for the family. Visit the Governor's house that represents the Buckingham Palace of Great Britain. The Cheena Peak is the highest point in Nainital where you can go trekking and get a panoramic view of the stunning landscape city.
Kilbury and Pangot is a home of more than 500 species of birds. Those who enjoy nature and bird watching can visit this place. There are many resorts nearby that give a stunning view of nature. The Jim Corbett National Park is only 65 km from Nainital. Get a glimpse of wild animals in this National Park up and close in jeep safaris.
8. Cheap Vacations A Trip To Udaipur
Get a glimpse of the Royal life visiting Udaipur which is dotted with the rich history, heritage, and royal palaces. Also known as the Venice of the East as there are many lakes and Royal palaces, you can visit this beautiful city in Rajasthan on a budget. It has many forts and gardens and you can visit this city by air, train, or bus. Watch the sunset on Lake Pichola by taking a boat ride here. Get selfies and beautiful pictures of the Saheliyon ki Bari garden. Visit the famous Karni Mata temple where rats take a free stroll inside the temple.
Many Havelis are spread across Udaipur that you can take a look at. Shop at Hathi Pol Bazaar. Do not forget to relish the red meat popularly known as the Laal Maas, a specialty dish in Udaipur. Get the aerial view of the city with ropeways. Jag Mandir Palace is a place where the pop artist Katy Perry got married. Do not forget to stay at the Taj Lake Palace. There are many places to visit in Udaipur and get a different feel of Rajasthan.
9. Ooty Tour Low Budget Tourist Places In India
Locally chocolates are made all year round in Ooty. You will never get enough relishing on chocolates when in Ooty. Popular for its scenic beauty and landscapes, Ooty is a good option for the budgeted weekend, especially, during summers. Go boating in the Ooty lake, hop on to the toy train in the Nilgiri Hills, Botanical gardens spread across 22 acres of land is a must see that houses thousands of flower and plants species. A deer park is a place where you can watch deer, hares, and a lot of lush green.
Get a panoramic scenic view at the Doddabetta peak and has a telescope house. Take a walk in the Pine forest where many Bollywood movies have been shot. Many scenic spots like the Avalanche lake, wax world museum, rose garden, emerald lake, Catherine waterfalls, thread garden shooting point, and Pykara lake can be visited to view their scenic beauty.
Read More: Places To Visit In Between Mysore Ooty
10. Alleppey Tour Low Budget Tourist Places In India
Ayurvedic spas and massages, boat rides, lush green, palm and coconut trees, and houseboats are what attracts tourists to this place in Kerala. You can stay in a houseboat, go birdwatching, watch the sunset at the lighthouse closer to the Alappuzha, visit temples and Catholic churches for some spiritual time. Shop for jewelry, artifacts, and handicrafts in the local markets. Opt for a homestay instead of a resort and get a taste of authentic Kerala cuisine and seafood.
11. Cheap Vacations Goa Trip Cost For Couple
For beaches, parties, nightlife, sightseeing, Goa is a global destination that can be visited on a shoestring budget. Stay in beach shacks and get a taste of the life of Goa visiting local places and historical landmarks and monuments. A place where beer is cheap that a bottle of water spells entertainment and leisure all over the place. North and South Goa have spending beaches, water sports, and outdoor activities that can be enjoyed with friends and family.
Read More: Best Tourist Places To Visit In Goa
12. Kodaikanal Cheap Holiday Destinations In India
Go trekking in the Dolphin's Nose cliff that gives a bird's eye view of the lush green landscape of the city. Places you can visit are silver cascade falls, Bryant Park, Kodaikanal lake, Green Valley view has surreal green pastures, Thalaiyar falls, Berijam lake, pine forest, and many other scenic waterfalls, lakes, and green spots are present in Kodaikanal. You can also visit the temples, golf club, caves, Perumal peak, and the Vaigai dam.
13. Low Budget Tourist Places In India Varkala
For those who are bored of Goa can hop down south to the beautiful and less crowded tranquil coastal town called Varkala. It has many scenic and clean beaches with clear blue waters where you can go beach walking and get some sun. The Varkala beach has sacred value and a dip in the waters of this beach is said to wash away sins. Watch the sunrise and sunset at the Bekal beach. Though, swimming is not advisable on this beach.
The Varkala beach also has a cliff that is 15 meters high and provides a scenic view of the beach. The Ponnumthuruthu Island has a 100-year-old Shiva and Parvathi temple. This is a secluded island and provides tranquil beauty.
14.  Jaipur Tour Low Budget Tourist Places In India
Jaipur has many forts, palaces, and lakes and provides a scenic view. Visit the Jal Mahal which is the water palace in Jaipur. Nahargarh Fort is popular for cycling, Amer Fort is popular for elephant rides, dine at Chokhi Dhani and get a taste of the authentic Rajasthani cuisine. Shop for Rajasthani Jootis, clothes, and jewelry in the Chandpole Bazar. Jaipur also has pubs and clubs where you can party at the end of the day.
Stay at one of the palace hotels and experience the royal treatment at these stays. These heritage hotels host puppet shows, safaris, and many other cultural shows. The Ranthambore National Park is a place to explore wildlife and species of many wild animals. Take hot air balloon rides, camel safaris, and jeep safaris in Jaipur.
Read More: The Ultimate Guide On Chokhi Dhani Jaipur
15. Chopta Low Budget Tourist Places In India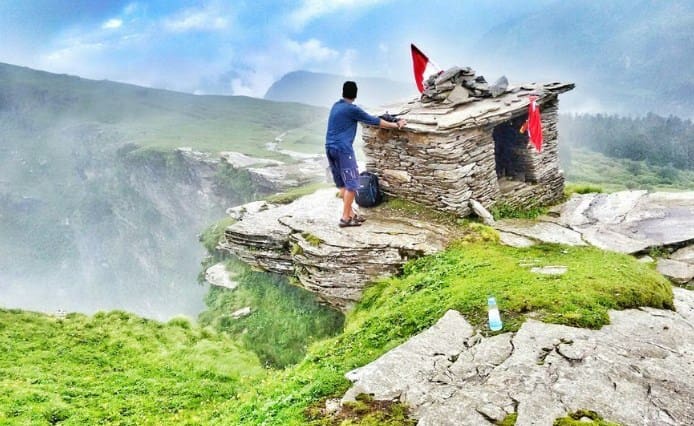 This is a valley with clear blue water where you can go on treks and get the spectacular view of the valley. It gives a view of the Himalayas and its range from the Chandrashila in Chopta. This is an ideal place for bird watching, trekking amidst the deodar and pine forests, and also visiting the ancient Shiva temple.
16. Cheap Holiday Destinations In India Kausani
This is a scenic in the Garhwal region of Uttarakhand. Visit the Rudradhari waterfalls, tea estate that is elevated at 1800 meters and provides a breathtaking view, Baijnath for ancient temples of Shiva and stargate observatory to view celestial objects in the galaxy. You can trek in the glaciers of Nanda Devi mountain range. The entire trek is surrounded with natural and landscape beauty.
There are many offbeat and unexplored destinations in India where you can travel on a shoestring budget and enjoy the beauty, history, culture, and cuisine of that place. For adventures, nature lovers, romantics, and shutterbugs these are the most popular budget-friendly travel destinations in India.
Read More:  Best Places To Visit In Chennai