India has umpteen sites and historical monuments that not only depict the history of India through various timelines and eras but through eons. Rich in culture and heritage, India is a hub of ancient temples, monuments, and many sites that tell a story of its times. These are famous historical places in India that you can visit and take a historical India tour.
List Of Historical Places In India
1. Ajanta Caves Information Historical Places In India
One of the ancient caves in India that depict Hindu, Jain, and Buddhist art and sculpture. The entire caves are cut from rock and have many historical monuments in this area. Surrounding a lush green forest and in the backdrop of Sahyadri Hills, these caves stand for many centuries. Ajanta caves were made by Buddhist monks in the 2nd century. Ellora caves were made between 3rd and 9th century by Chalukya kings. These are one of the largest cave structures in the world and a very famous place in India.
Ajanta Caves Entry Fee
Indian – 30 INR Foreigners – 500 INR
Ajanta Caves Timings
8am-5pm
2. Taj Mahal History In English In Short Paragraph
Listed in the seven wonders of the world, made in marble and is iconic of the eternal love of Shah Jahan for his wife. On the banks of the river open to the vast sky stands this symbol of love and a fine cusp of Indian and Persian architecture. And it comes under one of the most visited tourist places in India.
Taj Mahal Ticket
Indian- 40 INR, Foreigner- 1000 INR
Taj Mahal Timings
6am-9pm – Friday Closed.
Read More: Original 7 Wonders of the World
3. Qutub Minar Information In English Historical Places In Delhi
This is historical places in Delhi. The entire Minar is a tall pillar made in a single red sandstone. This is one of the UNESCO heritage sites and stands as tall as 240 feet. There are inscriptions engraved on this Minar in Persian and Nagari script. This Minar was built in the 19th century by Qutub-Ud-Din Aibak.
Qutub Minar Ticket
Indian-10 INR, Foreigner- 250 INR
Qutub Minar Timings
7am-5pm
4. Sri Virupaksha Temple Hampi Historical Places Of Karnataka
This is one of the UNESCO heritage sites and was built during the rule of Krishnadevaraya II, of the kingdom of Vijayanagara. The Virupaksha Temple is a temple of Lord Shiva in this site and is carved in stones. This site was built in the 14th century and the temple was built in the 7th century. Hampi was a wealthy city closer to the Tungabhadra river. There are many shrines, temples, pillars, and ruins. This site is known for its austerity. This is an old city of the ancient times and is also mentioned in the sacred epic Ramayana as the sacred place of Goddess Pamma, an aspect of Goddess Parvati.
Hampi Entrance Fee
Indians- 10 INR, Foreigners 250 INR
Virupaksha Temple Timings
6am-6pm
Read More: Ghost Town And Cities in India
5. Sun Temple Konark Information Historical Places In India
This is a Sun temple known for its architecture and religious significance. In three different corners of the temple, the Sun sculptors are installed. The sun rays fall on these sculptures during the morning, noon, and evening times. This temple was built in the 13th century in the Ganga Dynasty and took 1 year to build it with the help of 12 artisans. It was built by the King Narasimhadevara I of the Ganga Dynasty who worshipped the Sun God.
Konark Sun Temple Entry Fee
Indian- 30 INR, Foreigner – 250 INR
Konark Temple Timings
6am-8pm
6. Historical Places In India Information About Mahabalipuram
This is an old temple town in the state of Tamil Nadu that has 7th and 8th-century old temples and monuments. One of the most popular temples is that of Lord Shiva that was built in the Dravidian style and architecture. This old temple town resides on the coast of Bay of Bengal. There are Krishna temples on the shore of the Bay. Mahabalipuram have many historical monuments, chariots, and cave temples from the period of the Mahabharata. There are inscriptions written from many ancient sects of the Hindu religion. These monuments were built during the rule of Pallava Dynasty.
Mahabalipuram Entrance Fee
Indians – 30 INR, Foreigners- 250 INR
Mahabalipuram Timings
6am-6pm
Read More: Places To Visit In Chennai
7. Historical Monuments Khajuraho Temples Madhya Pradesh
These temples were built in the 12th century by the Rajput King of the Chandela Rajput Dynasty. They have many erotic sculptures and 85 temples in total in an area spread across 6 km. Out of 85, only 25 temples are remaining. This is one of the UNESCO sites and each temple depicts the symbolism and architectural style of Nagara. Within this site are Hindu, Jain, and Buddhist temples. These temples depict medieval history from the 9th and 1st century. All the temples in this site are east facing and glisten when the sun rays fall on them in the morning.
Khajuraho Temple Ticket
Indians 30 INR, Foreigners 500 INR
Khajuraho Temple Timings
6am-10pm
8. Humayun Tomb Architecture Historical Places In Delhi
The architecture of the Humayun's Tomb has inspired the making of the world's seven wonders, the Taj Mahal. Humayun's wife ordered building this tomb with intricate decors, alcoves, domes, and corridors. This is the first tomb in India that has beautiful gardens and waterfront. It was built in the 15th century in the Indian and Persian architectural style. This tomb, unlike any other tombs, speaks of grandeur and opulence. There are over 150 members of the Mughal families buried in the cells of this tomb.
Humayun Tomb Ticket Cost
Indian 40 INR, Foreigners 510 INR
Humayun's Tomb Timing
7am-7pm, Friday Closed
Read More: Places To Visit On This Independence Day
9. Fatehpur Sikri History  Historical Places In India
Fatehpur Sikri is one of the cities in India known for its medieval and Mughal history. Emperor Akbar built this city but it was later abandoned due to lack of water. You can find the finest Persian and Indian architecture in many monuments built by the emperor. Panch Mahal, Diwan-e-Khas, Buland Darwaza, Tomb of Salim Chishti, a Sufi saint, Diwan-i-Aam, and Karawanserai. The Panch Mahal was the residence of royal ladies and mistresses. You can get a panoramic view of the city from the top floor of Panch Mahal.
Fatehpur Sikri Ticket
Indians 40 INR, Foreigners 510 INR
Fatehpur Sikri Timings
6 am – 6 pm, Friday Closed
10. Hawa Mahal Information Historical Places In India
Maharaja Sawai Pratap Singh built the Hawa Mahal in the shape of a crown and was a devotee of Lord Krishna. It is in the shape of a honeycomb and does not have a foundation. Hawa Mahal was built in the 17th century with a blend of Rajput and Islamic architecture. It was built for the royal women of the kingdom to witness events and festivals. There are elaborately decorated windows and jharokha with beautiful motifs.
Within each chamber are fountains. Hawa Mahal does not have the staircase and you can reach the top floor using ramps. This monument has a courtyard which is turned into a museum. During early morning when the sun rays fall on the Mahal around 4.30am, it gives the historical monument a reddish golden hue.
Hawa Mahal Ticket Price
Indians 10 INR, Foreigners 50 INR
Hawa Mahal Timings
9.30am- 4.30pm
Read More: Skydiving In India
11. Vajrasana Mahabodhi Temple Bodh Gaya, Bihar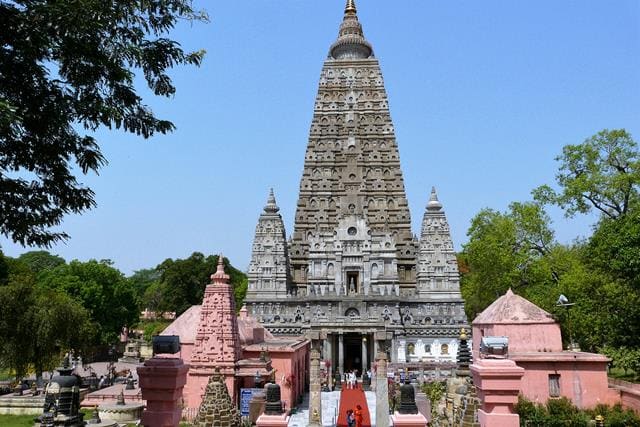 Located in the district of Gaya in Bihar, this is one of the sacred sites of Lord Buddha who attained enlightenment at this place. Emperor Ashoka built this temple complex in the 3rd century B.C. This was the first Buddhist temples in India built in red brick. Within this Indian temple complex is the sacred Bodhi tree and six sacred sites of Lord Buddha. There are ancient stupas, a lotus pond, throne made at the spot where Lord Buddha sat for meditation. It is said that the spot where Buddha sat to meditate under the Bodhi tree will be the last to disappear when the world ends and the first to resurface when the world gets recreated again.
Mahabodhi Temple Entrance Fee
Free
Mahabodhi Temple Timings
5am-9pm
12. Historical Places In India Charminar History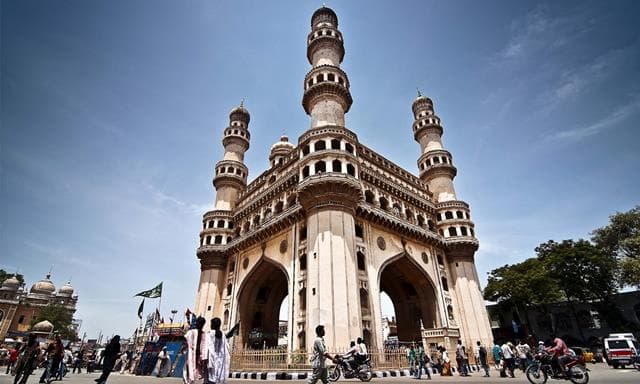 Situated in the Old City of Hyderabad, this Minar was built by Mohammed Quli Qutub Shah in the 15th century. It is said that there is a secret passage from Charminar to Golconda Fort that is still undiscovered. It is also said that Charminar was built to ward off Plague from the city. Every Minar has the head of the cat to ward off rats. Close to Charminar are many bazaars and shops where you can buy clothes, jewelry, and relish Hyderabadi street food in the eateries nearby. One of the Best places to India tour.
Charminar Entry Fee
Indians 5 INR, Foreigners 100 INR
Charminar Timings
9.30am-5.30pm
Read More: Places To Visit In Coorg
13. Mysore Palace Information Historical Places In Karnataka
This was a royal abode of many rules of Mysore city. This palace is now turned into a museum that has royal pictures, clothing, used items of the kings, and artifacts of the Wodeyar Dynasty. This palace has chandeliers, pavilions, tiles, and is made in a blend of Hindu and Mughal architecture. Royal weddings were hosted inside the palace. During the Dussehra festival, 10,000 lights are lit up in this palace. And it comes under famous places in India to visit on India tour.
Mysore Palace Entry Fee
Indians 40 INR, Foreigners 200 INR
Mysore Palace Timings
10 Am-5.30pm, Closed On Sunday And Government Holidays.
14. Historical Places In India Chola Temples Tamil Nadu
Chola Dynasty was one of the greatest kingdoms in South India. The Chola kings built 3 great temples during the 11th century and the 12th century at three different locations. These temples depict the striking architecture of the Chola Dynasty. The Brihadishwara temple in Tanjore is a 1000-year-old temple made in single stone and is an auspicious temple of Lord Shiva. The second temple in Gangaikondacholapuram is smaller and have Navagraha shrines within. The third temple is the Airavateshwarar temple in Darasuram. A celestial elephant worshipped the deity at this temple. All these three temples have sculptures with intricate details.
Chola Temples Entrance Fee
Free
Chola Temples Timings
6.30am-8.30pm
15. Gateway Of India Information Historical Places In India
Gateway of India has historical significance as the British left India through the Gateway of India. It was the entry and exit point for the British who had rules India. This is one of the landmark sites in Mumbai and was constructed in the year 1924. Gateway of India was constructed to welcome King George V and Queen Mary during their visit to Mumbai. Its height is 83 feet and is built in yellow basalt and concrete. One of the famous places in India for tourist.
Gateway Of India Entry Fee
Free
Gateway Of India Timings
12am-12pm
These are the most popular historical sites in India that depict the architecture, religious faith, and cultural history through various eras and eons. Get the history of the creation of the world through these heritage sites that have tales to tell from the ancient times about the lives and kingdoms that ruled these lands.
Read More: Best Summer Holiday Destination In India