Talking about paranormal things and ghost stories gives an eerie feeling and a curiosity that attracts many visitors to these ghost cities in India that have a paranormal history attached to it. These are the ghost town and cities which have been abandoned for various reasons and a few also are sights of paranormal activity. A few ghost stories attached to a few towns which are said to be true. These are ghost cities in India with an eerie silence, ruins, and crumblings structures that leave a sense of mystery for the visitors. A few towns are not to be visited after dark and even Government had certified them as paranormal places and cautioned people from visiting them after sunset.
List Of 10 Ghost Cities in India
List Of 10 Ghost Cities in India
1. Bhangarh Fort
This is one of the most haunted places in India and is a Ghost town. Stories associated with this ghost town depict that a tantric had cursed this town because he was pelted to death with stones for wanting to marry the princess. He cursed the place and since then over a period of 400 years this entire town has been abandoned. Visitors are not allowed to stay at this place after sunset.
2. Kuldhara Gaon Rajasthan
This is a heritage site and very famous for haunted places in India, a town with ruins and structures. As per the stories, the entire village was emptied overnight and never inhibited since. It is said that the town is cursed and brings death to anyone who wants to inhibit it. This was said to be once a prosperous village. This was one a home of Paliwal Brahmins 200 years ago. A diwan called Salim Singh is known for debauchery and taxing villagers unscrupulously set his eyes on the daughter of the village chief. The entire village abandoned this place overnight after Salim Singh threatened anyone who would come in between his daughter and Salim Singh. The most mysterious thing is that nobody saw the villagers leaving the town.
3. Mandu Indore
In the Dhar district of Madhya Pradesh lays a city in ruins. Mandu is a city that is abandoned and in ruins. You can visit this city for its forts, tombs, Jahaz Mahal, and the story of the love of Baz Bahadur for Rani Roopmati. This deserted place is visited by tourists for its palaces, gardens, forts and other haunted places.
4. Hampi Bangalore
This is a deserted city in Bangalore where you can take stunning photographs of the ruins against the sky. Hampi was known to be a rich city until Muslim invaders ripped the city of its wealth and prosperity. The city is now in ruins and stands to be a tourist spot for weekend getaways. This is also one of the UNESCO heritage sites and has many temples and chariots, and underground passages. This is a city that has an unusual architecture.
5. Ross Island Andaman Islands
This is a deserted island filled with spooky stories. Ghost cities in India Ross is an island that has deserted church and many structures in ruins that were destroyed because of earthquakes. This is an isolated place and is infamous for paranormal activities. This island is also known for its ghost stories related to this haunted places. You can venture on this island at your own risk. It is now only inhabited by military officers. This is a mostly deserted island where everything is in ruins and there is no place to stay here.
6. Lakhpat Gujarat
On the border of Rann of Kutch lays the ruined town Lakhpat. It is deserted and not inhabited by anyone. After an earthquake, this ghost town was drowned when the river changed its course. You can find many buildings and religious structures from various religions such as Sikh, Hindu, and Islam. This town holds religious significance for all the three religions and ghost stories. You can visit tombs, forts, and get a view of the sea next to most of the forts.
7. Fatehpur Sikri Uttar Pradesh
This was the city built by Emperor Akbar. Soon the town was emptied as they realized there was no water available for the dwelling. This city is also popular for its ghost stories. It is flanked by palaces and gateways and has stunning Mogul architecture. Once the capital city of Akbar, where many popular Bollywood movies have been shot is now deserted.
8. Dhanushkodi Tamil Nadu
In the year 1964, a cyclone hit the town and washed it away leaving it desolated and in complete isolation. There have been no inhabitants since and the town is rumored to have paranormal activities happening. Closer to the Indian Ocean, this is a ghost town that is located near the sacred Hindu site, Rameshwaram.
9. Old Goa
After the epidemic of cholera and malaria broke out this part of Goa has been abandoned and converted into a UNESCO heritage site. You can visit this part of Goa for churches, beaches which are isolated, and many hauntings and paranormal sites.
10. Kalavantin Durg Maharashtra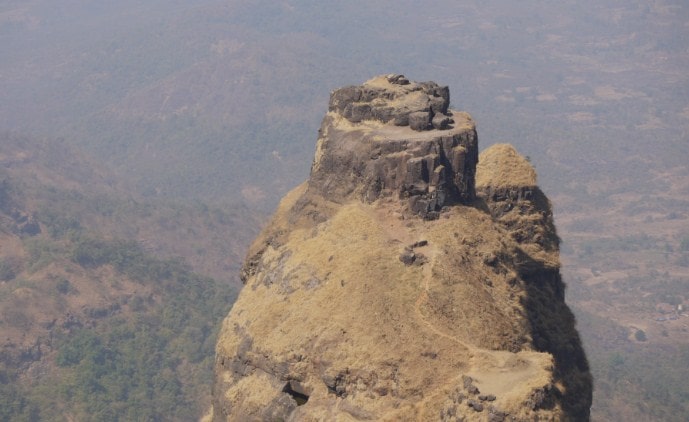 This is supposed to be one of the most haunted places of the towns in Maharashtra closer to Matheran. This is also ranked as one of the world's most dangerous fortress. It stands tall at an altitude of 2300 feet and is steep. This is also one of the most dangerous treks to take as there is no support to reach this fort that adjoins a deep cliff.
Listed here are the ghost town the save a tragic past and bring a feeling of eerie. Those who love history and ghost stories can visit these places and get a feel for the place. Most of the places are also known to be spooky so you can visit them at your own risk. A few places offer a great view, architectural history, and a view that can attract shutterbugs to this place.
Read More: Wildlife Sanctuary And National Park Of Rajasthan