Fatehpur Sikri was built by Emperor Akbar in the 15th century. He later abandoned it because the water was scarce and moved the capital to Agra. Since then, Fatehpur Sikri has been a ghost town. He built this town to honor the Sufi saint Salim Chisti. The entire city is built in the Indo-Mughal architectural style. There are many places to visit in this city that speak of its rich history and splendid architecture. He built this city after his victories against Rajputs in Rajasthan. This is a UNESCO world heritage site. Most of the monuments are built in red sandstone.
1. Why Was Fatehpursikri Built?
Emperor Akbar built the Fatehpur Sikri in the 15th century to signify his victory over the campaigns over the Rajasthan and Gujarat campaigns. He also built this town in the honor of the Sufi saint Chisti. He later had to abandon this city as it had water problems in the 16th century and shifted his capital to Agra.
2. When Was The Fatehpursikri Built?
Fatehpur Sikri was built between the period 1571 to 1585. The monuments inside this town which is a part of the Agra district are built in the Indo-Islamic-Persian style of architecture. This is now a ghost town and it is rumored that a few monuments inside this town are also haunted.
Read More: Complete Information About Jallianwala Bagh
3. Fatehpur Sikri Architecture
Within the town of Fatehpur Sikri, there are many palaces, complexes, courtyards, mosques, artificial lakes, ceremonial gates, and many interesting sites that have stunning ancient architecture. All the monuments inside the town are made in red sandstone. The entire city was built in 3 years under the supervision of Emperor Akbar. Jama Masjid, which is the largest mosque in India is a part of the monumental complexes inside the city. The monuments inside the city are built in the Indo-Islamic style of architecture.
Within these monuments, there are many intricately carved pillars, and most of the monuments are geometrically aligned with each other. This is one of the finest examples of a well-planned city that has a structured architecture and design. Most of the structures have ornate designs and architectural delights. The pillars, internal and external structures are expressive and intricately carved.
4. What Is Fatehpursikri Famous For?
There are many tourist attractions in the city. Most popular monuments that people visit inside the city are the Diwan-i-Khan, Diwan-E-Aam, Jama Masjid, Buland Darwaza, Tomb of Salim Chisti, PanchMahal, and many other magnificent monuments, gardens, and courtyards within the monumental complexes of the city.
Read More: Complete Travel Guide To Mysore Palace
5. Best Places To Visit In Fatehpur Sikri
5.1 Bulanddarwaza
This is a magnificent gate that is at the base of Jama Masjid. It is highly ornate and built in the Indo-Islamic style. It is built in red sandstone. The intricate carvings within this mammoth gate are made in white and black marble. This is a five-storeyed gateway and is located towards the South of Fatehpur Sikri. This gateway is 176 feet high. The construction of this gate was completed in 12 years. Inscriptions of the Holy Quran are written on the walls of this gateway. It has a marble dome, arches, and pillars with motifs and carvings.
5.2 Jama Masjid
This is a UNESCO world heritage site and one of the largest mosques built in India. This is one of the most visited tourist monuments in FatehpurSikri. It has a courtyard and a gateway. Inside the masjid, there are carvings, paintings, and many decorative motifs. It has two halls and is made in red sandstone. The detailed carvings inside the masjid are made in white marble. The courtyard can accommodate 25000 people.
5.3 Panchmahal
This was the palace built for the royal ladies of the court and was built by Emperor Akbar. It is also known as the wind tower. The pavilions are made in red sandstone. There are four floors inside this palace and lavish looking gardens and pavilions. Most of the floors are carved with floral motifs and intricate carvings. This was used as a summer retreat of Emperor Akbar. Once upon a time, the pool in the exterior of this palace was filled with silver, copper, and gold coins.
5.4 Sheikh Salimchisti Tomb
As a mark of respect, Emperor Akbar built this tomb to honor the Sufi saint Salim Chisti in the 15th century. He also named his son Jahangir after the name of this saint. The saint is buried inside this tomb. The tomb is highly ornate with marble screens, a dome, and a hall inside. Every part of the tomb including the door, the plint, and other areas are carved in marble. Flowers are offered at this shrine. People of different religions and ethnicities visit this tomb.
5.5 Hiranminar
Hiran was the name of the favorite elephant of Emperor Akbar. He built this minar in the memory of his favorite elephant. This tower was used as a lighthouse for travelers during the Mughal rule. It is built in octagonal shape and has a square platform. Elephant tusks are placed in each row of the minar on the exterior of the pillar. You can get a view of Fatehpur Sikri from the top of this tower. Royal women used to watch sports and other events from this tower.
5.6 Diwan-I-Khas
This is a hall that was used for entertainment. It has many carved pillars. It was a place where Emperor Akbar would meet his guests. It is built in red sandstone and has two storeys. It has a dome that looks like an inverted lotus. There are balconies, galleries, and many architectural delights that you can observe inside this hall.
5.7 Diwan-I-Aam
This was the hall used by Emperor Akbar to declare public petitions and was built in the 15th century. Public prayers and celebrations were also held at this hall. There is a throne chamber built on the eastern part of the hall as Emperor Akbar believed in the sun worship. It has a stone tiled roof, pillars, corridors, and a beautiful pavilion.
5.8 Birbal's Palace
This was the residence of Minister Birbal who was the Hindu home minister in the court of Emperor Akbar. It was built in the 15th century in the Mughal style of architecture. It has two floors, and each floor is carved in motifs, has pillars, beams, arches, and carved roofs. This palace was also a harem of the senior queens of Emperor Akbar.
Read More: Places To Visit In Jaipur Tourism Rajasthan
5.9 Daulatkhana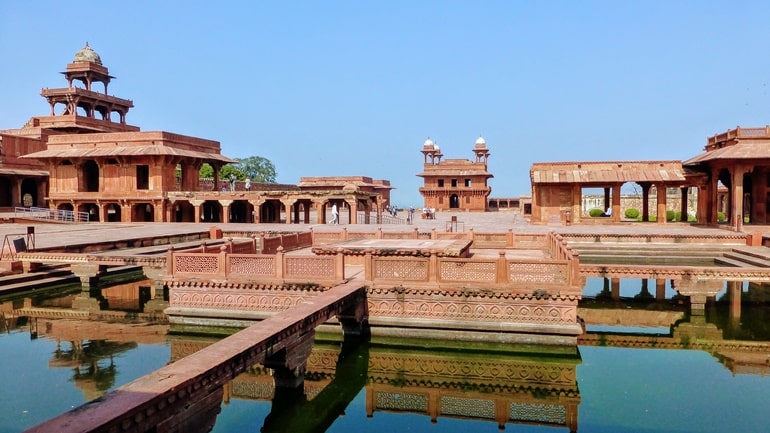 This is also known as the Dream Palace and was the personal residence of Emperor Akbar. It has two storeys and is built in red sandstone. The ground floor was used as a dining hall, library, and for official work. It contains many official documents during the reign of Emperor Akbar. The bedroom has a verandah and carved roof, mural paintings, and Persian inscriptions on the wall of the bedroom.
5.10 Turkish Sultana's House
This was the palace of two Turkish Queens of Emperor Akbar. It has carved walls and balconies. It is built in red sandstone. There are floral and geometric patterns on the walls of this palace. It has a pavilion closer to the AnupTalao. Amongst all the complex this is one of the most ornamental structures. It has carved panels, brackets, and columns.
5.11 Hathi Pol
This is a gateway made in red sandstone an marble and was built by Emperor Akbar in the 15th century. On its walls, it has stone-carved elephants. This is a gateway that leads to the Fatehpur Sikri palace and fort complexes.
5.12 Caravanserai
This is a guesthouse that is built in the Mughal architectural style. The arches are made in marble and red sandstone. They are decorated in stucco work. It has a very big courtyard and is surrounded on all four sides. It has pillared verandas and has a terrace.
5.13 Jodhabai Palace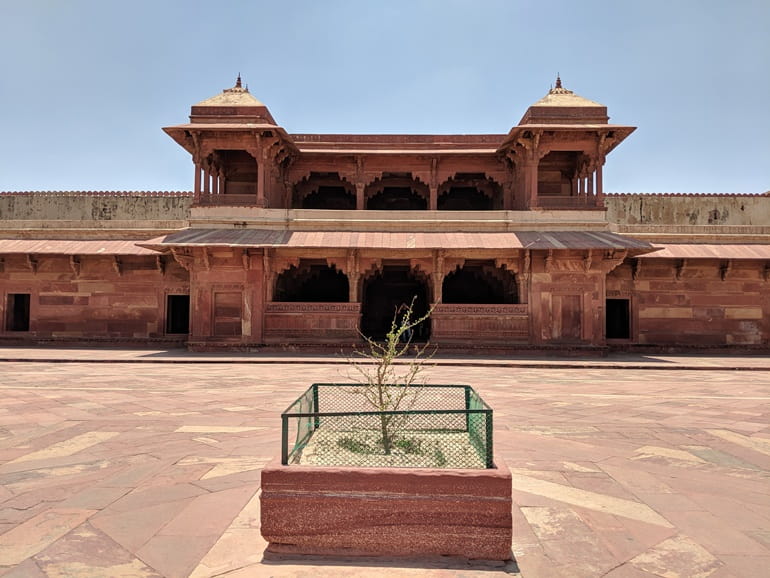 JodhaBai was a Rajput princess and also the wife of Emperor Akbar. He built this palace for her. She worshipped Hindu deity in her palace. This palace is a fusion of Indo-Islamic architectural blend. It is decorated with many holy Hindu motifs like swastika, parrots, elephants, and swans on the walls of the palace. It has chhatris, pillars, and semi-circular domes.
5.14 House Of Abdul Faizal And Faizi
Abdul Faizal was a historian who lived in the Mughal era when Emperor Akbar ruled the place. This is a single-storied building that is made in red sandstone. It has a verandah and carved columns. There are rooms and a small gallery inside this house.
5.15 Archeological Museum
This is also known as a Treasury building built during the Akbar's era. It is now converted into a museum that has many items and artifacts from the Mughal era. It also displays objects like micro-lith stone tools. There are many ancient Jain and Hindu sculptures excavated from this site. There are many items on display from the Iron Age to the Mughal period inside this museum.
5.16 Itimad-Ud-Daulah's Tomb
This is also known as the Baby TajMahal and is located in Agra and is the first mausoleum in India that is entirely made in marble. It is the tomb of the minister of Shah Jahan by the name Mir Ghiyas Beg. It is built on the banks of River Yamuna in Indo-Islamic architectural style.
Read More: Tourist Places To Visit In Hampi Tourism
6. Things To Do In Fatehpur Sikri
6.1 Relish The Mughlai Cuisine
Enjoy the seek kabab, tikkas, tandoori chicken, and many other mouth-watering Mughlai dishes. There are many places of an eatery near BulandDarwaza where you can relish the authentic Mughlai cuisine. Visit the Lake View Resort or the Mughal Garden Resort to get a taste of the Lucknowi and Mughlai dishes.
6.2 Go Bird Watching At The River Chambal
Take a bird-watching safari at this River Chambal. It has more than 200 species of birds and most of them are migratory birds. You can spot turtles, dolphins, gharials, and muggers at this bird sanctuary. You can spend an entire day at this sanctuary taking pictures of nature and enjoy the view of the nearby surroundings and spotting birds.
6.3 Shop At The Kinari Bazar
There are Chudi bazar and many other local markets in Fatehpur Sikri where you can buy handicrafts and jewelry. The Kinari Bazaar is famous in Agra where you get garments for all occasions. You can buy vibrant handicrafts and garments in this retail market.
6.4 Bharatpur Bird Sanctuary
This place is also known as the Keoladeo National Park. You can visit this park that is closer to Agra and is located in Rajasthan. Many private buses and taxis are available to visit this sanctuary. This is a UNESCO world heritage site and has more than 200 species of birds.
7. Best Time To Visit Fatehpur Sikri
The autumn and winter season between October and March are the best time to visit Fatehpur Sikri. The weather is cooler during these seasons and is ideal for sightseeing. Do not visit this place during the monsoons between August and October. Summers are hot and between April and July. The rates are low during summers and some tourists visit the city during summers as well.
Read More: Complete Information About India Gate Delhi
8. Fatehpursikri Location
9. Fatehpur Sikri Images
https://www.instagram.com/p/B1wb8SDF6Cx/?utm_source=ig_web_button_share_sheet
Read More: