Paradise Island in the Bahamas is one of the most exotic Bahamas vacation you can take to witness the marine life of 50,000 creatures, water sports, pristine beaches, shopping, and many outdoor activities. On the Paradise Island Atlantic Ocean, there are marine habitats, water parks, casinos, places of sightseeing, lounges, pubs, nightlife, and more.

Things To Do In Paradise Island In The Bahamas Vacation
Things To Do In Paradise Island In The Bahamas Vacation
1. Marine Habitat At Atlantis Paradise Island In The Bahamas Vacation
Experience the underwater world and exhibits from the Lost City of Atlantis Paradise Island. You can find sharks, sea horses, and many species of the aquatic life in this aquatic park. There are various lagoon sections dedicated to the Mayan civilization, ruins, predator species, cenotes, and fish species. You can spend an entire day with family and kids at this marine park. This is one of the popular places to visit in the Paradise Island Atlantis.
Marine Habitat At Atlantis Price
$49 for Marine habitat and $74 Marine habitat + beach
2. Pink Sands Beach Paradise Island In The Bahamas Vacation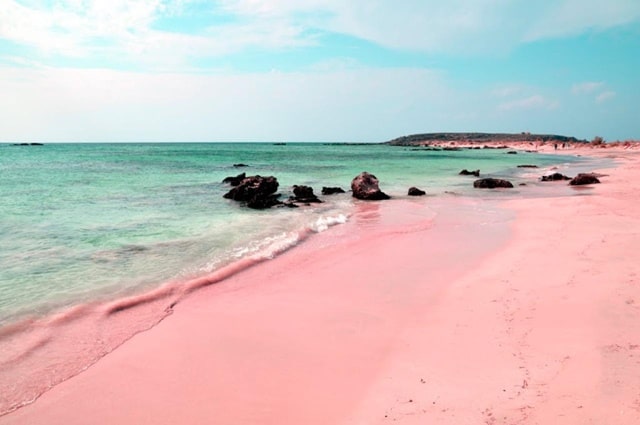 This beach has pink sand and stretches at a distance of 5kms. You can swim inside the pristine waters of this beach as well as go beach hiking. You can take scenic pictures as well as go horseback riding on this beach.
3. Ferry To Rose Island Bahamas Vacation
Rose island has turquoise blue waters and is 3 miles from Atlantis Paradise Island. This is a small island that has one of the most pristine beaches and clear waters. You can spend the afternoons on the beach or go for rose island Bahamas snorkeling in the nearby reefs of the waters of the Rose Island.
4. Dolphin Cay Atlantis Paradise Island In The Bahamas Vacation
Swim with the dolphins, sea lions, and snorkel in this portion of the Marine Habitat and spend an entire day having fun with different water activities, greeting marine creatures, and spending time in nature's wonders. Atlantis Paradise Island has many attractions like the Dolphin Cay in the Marine Habitat.
5. Swim With Stingrays Bahamas Vacation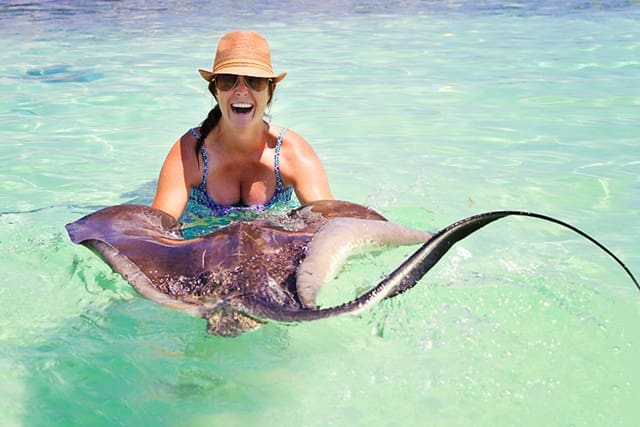 Find many colorful and tropical fish along with the stingrays in Atlantis Paradise Islands. Inside the Dolphin Cay get the stingray experience by finding these fish species. Children, as well as adults, can opt for this adventure inside the Dolphin Cay.
Atlantis Stingray Experience Cost
$99 per head
6. Atlantis Aquaventure Bahamas Vacation
Water slides, river slides, pools, beaches, and private cabanas are the features of the Aquaventure. There are Mayan themed water slides, 11 pools, and beaches that stretch across 5 miles distance with clear turquoise blue water and white sand. Aquaventure is the perfect vacation for family and kids. Bahamas vacation is ideal for newlyweds and one of the hottest honeymoon destinations.
Atlantis Bahamas Water Park Tickets
Adult: Between $135 to $166 (it depends on the season)
Child: Between $93 to $103 (age 4year to 12year)
Atlantis Bahamas Water Park Hours
1000hrs to 1900hrs
7. Atlantis Casino Paradise Island In The Bahamas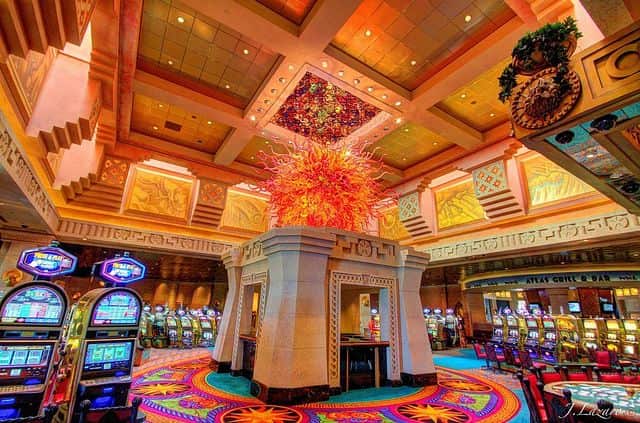 Attend events, tournaments as the Atlantis Casino is one of the most beautiful casinos where you can try your fortune at the tables. This casino is decorated with beautiful surroundings of fish tanks, glass sculptures, and a very friendly and a prompt service.
8. Coco Cay Island Paradise Island In The Bahamas
Coco Cay is a tranquil and a calm beach with white sand and clear blue water. You can go swimming and beach walking on this beach. It is flanked by eateries and places to drink on the beach. You can take a book and read under the umbrella of this beach and enjoy the quiet sunsets with your beloved on this beach. This is one of the romantic beaches for couples to visit.
9. French Leave Beach, The Bahamas
A serene beach with soft sand and turquoise waters makes it an ideal place to take a stroll in the morning or evening. The beauty of this beach can inspire you and set in the tone of tranquility and calmness. You can go snorkeling on this beach and view the colorful coral reefs and the tropical fish underwater.
10. Predator Lagoon Paradise Island In The Bahamas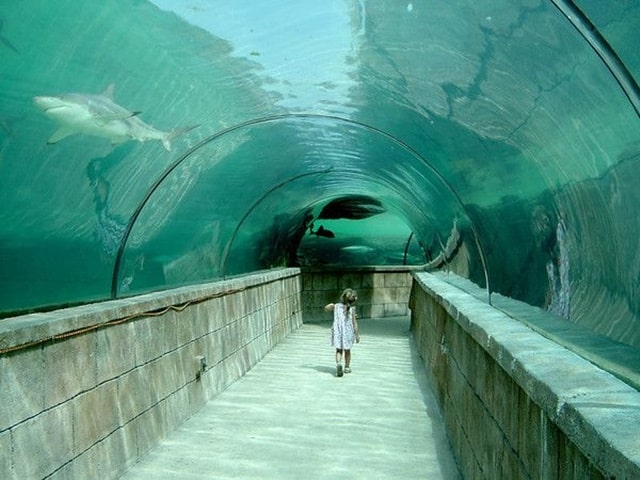 This is a nature park and an aquarium that has 800,000 gallons of water. There are many marine species that you can see at this aquarium. Sharks, barracudas, sawfish, and many other marine animals and fishes can be seen in this aquarium. There are separate reefs for sharks and other marine animals where you can witness the species in a breathtaking environment.
Read More: Cancun Tour: Things To Do In Cancun Mexico