Things to do in Spain, Spain is a beautiful country known for its autonomous regions, culture, cuisine, cathedrals, ancient history, architecture, nightlife, tapas, and many more Spain attractions. There are more than 200 unusual things that you can do when you visit Spain. You can choose from a list of things depending on your interest and budget. These are the most popular list of things to do in Spain that you can do when you visit Spain. Spain is a country where you feel at home even if you are traveling here for the first time. Spain must be one of the places on your bucket list, this is not a country to be missed for many reasons.
Things To Do In Spain
1. Tapas In Spain
Spain is popular for tapas, which are appetizers and snacks that come in a humongous variety that you can't tell one from another. The most popular tapas are tortilla Espanola, Patatas Brava, Gambas Al Ajillo(shrimp), and much more mouthwatering tapas you can find all over the country.
2. Balearic Islands Spain
The Mediterranean is one of the most popular party destinations and the Balearic Islands are a must visit for its vistas, sea, beach walking, nightlife, and relishing on the cuisine. Visit Ibiza for partying and Menorca to experience the stunning view of nature. Formentera has wonderful beaches. These cluster of islands can be your idyllic beach destinations when you visit Spain.
3. La Rioja Wine Region
Most popular things to do in Spain is visiting La Rioja for wine tasting. These are one of the most beautiful vineyards in the world where you can taste some age-old wine that can be bought all over La Rioja. Amidst the beautiful backdrop of mountains, you have many vineyards spread across small zones where you can taste a different variety of wine.
4. Alhambra
This is a huge fort where you will spend an entire day walking and having a look around. There are many buildings, complexes, a Moorish palace, a water garden, Nasrid Palace with many rooms, and many structures that you can see. The ceiling, walls, tiles, and architecture is worth the view and spend an entire day here.
5. Toledo Spain
Visit this old town for its ancient history, structure, cobblestone streets, cathedrals, a walk on the Alcantara bridge, and more. This is a historic town towards the south of Madrid. This is a heritage city as it has many ancient towns where you will find mosques, churches, and a blend of three religions. Visit this town for a stunning view of its architecture, Arabian baths, food, and sightseeing.
6. Seville Spain
Get a view of the bridges, take photographs of gardens, walk on the promenades, and get a view of Spanish culture and architecture in Seville. One of the jewels of Spain attractions, eat at the tapas bar, watch a flamenco show, enjoy live music, visit plazas, cathedrals, and get an offbeat experience of Spain through Seville.
7. Barcelona Sightseeing Places
Museums, food, nightlife, historical buildings, Spanish culture, football stadiums, shopping, cathedrals, plazas, friendly people, musical concerts, and is a hub of art and cultural things. You can find art everywhere in buildings and structures, as well as ancient architecture in Barcelona. You can find the works of artist Gaudi all over Barcelona.
8. Skiing In The Sierra Nevada Mountains Spain
This is one of the most popular skiing destinations in the world. You can ski on this mountains and go to the beach which is at a close distance and get a suntan. This is what is unique about this place and is a must visit in Spain.
9. Watch A Football Match In Camp Nou
If you are lucky you can watch Spain attractions the Messi, playing the football live in front of your eyes in this football stadium. Learn some football chants if you are a solo traveler and go to the bar first, make some friends who are headed to the match.
10. La Tomatina In Spanish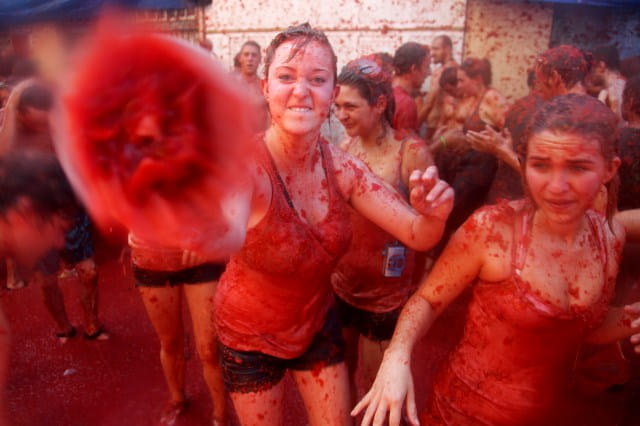 Relish the Paella and participate in the festival. Stomping and squeezing tomatoes in masses is once in a lifetime activity and Spain attractions that you can enjoy only when you visit Spain. When the rocket shoots up it time to head to the bar for the clean up after the end of the event.
11. Andalusia Spain Villages
This is a cluster of small villages where most of the buildings are in white color. Go to these villages to get a view, for sightseeing, and also visit olive farms and learn the process of making olive oil. These villages lay between Seville and Granada and you can squeeze some time for a day trip.
12. Avila Spain The Medieval Town
Get a taste of traditional Spanish culture by visiting this old medieval town. The wall tour is popular in this town. Spain attractions are going for wall tour and visit cathedrals, art museums, and tapas bars in this town. One of the places that provide free tapas.
13. Ronda Spain
An ideal place for shutterbugs who can take pictures of stunning views and architecture. Take bike tours and ride around this city taking pictures, sightseeing, eating tapas, deep gorges, and the Roman Bridge. This is a beautiful city with scenic views.
These are amongst the best things to do when you visit Spain. Spain is a country that has umpteen cities and town that you can add to your bucket list and visit many times in life for its culture, tapas, music festivals, events, sightseeing, history, cathedrals, architecture, and more.
Read More: Best Things To Do In Bali