Bali, Indonesia is known for its tranquil beaches, spirituality, and beautiful resorts. Nusa Dua is a resort area in Southern Bali that has beautiful beach resorts and upscale markets. Popular for watersports, plush hotels and resorts, Nusa Dua is the most sort after area in Southern Bali. There are many places for sightseeing, dining, and shopping in this area. These are the things you can do in Nusa Dua Bali and have a one of a kind experience when you visit Indonesia.
What To Do In Nusa Dua
1. Water Sports At Nusa Dua
Nusa Dua is a popular destination for stunning beach resorts and water sports. Diving, banana boat rides, and jet skiing are popular water sports in this part of Bali. Most of the resorts and hotels 5 star arrange for water sports for tourists to enjoy.
You don't have to spend separately searching for water sports areas and packages as it is arranged by most of the hotels in Nusa Dua. Snorkeling is another watersport that you can take up at the Pantai Mengiat beach that also has a reef. Flyboarding is one of the most popular water sports that people enjoy in Nusa Dua.
2. Nusa Dua Promenade
This promenade by the sea of blue water and sky has a walking path where you can take a morning or an evening stroll. The walking path is 7 kilometers long. You can enjoy the view of sunrise and sunset when you take a walk along this path.
3. Seawalker Bali Nusa Dua Package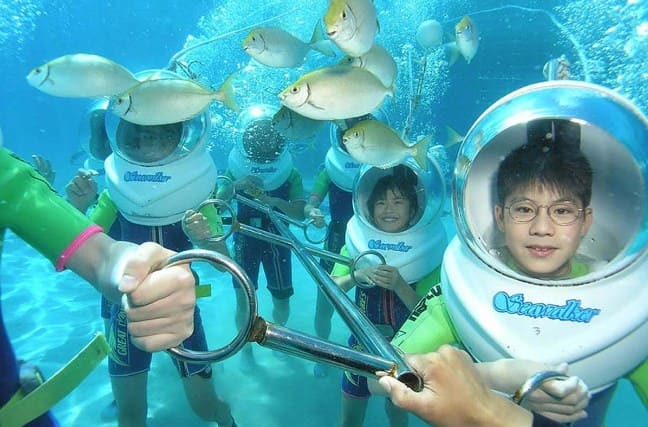 Those who are tired of watersports can try the sea walking tour along the coral reef. Most of these tours are arranged by the hotels and you can choose from the tour packages that involve activities that you want to do. Helmets are provided for these tours and your hair will not get wet when you wear them and walk in the ocean in one of the diving sites provided in the packages.
4. Gunung Payung Beach Nusa Dua Bali
Go for a swim or go snorkeling in the turquoise waters of this ocean. You can also take a view of the farmers collecting sea weeks at this beach. These seaweeds are used in manufacturing cosmetics in Bali using natural ingredients. This is one of the secluded beaches that are not very crowded. You can visit this beach for its view and tranquility.
5. Bumbu Bali Restaurant
This is one of the plush restaurants in Nusa Dua and a visit her to try the Balinese cuisine is a must. Get a taste of traditional Balinese cuisine and satiate your epicurean taste for culture and ethnicity when you get a different dining experience at this restaurant.
6. Pandawa Beach
Pantai Pandawa is what the locals call this beach. The beach is as long as 8 kilometers and offers a panoramic view of the turquoise ocean with emerald water. Towards the end of the coastline near the limestone cliffs are the statues of 5 Pandavas from the Hindu Mahabharata epic. You can dine in the restaurants closer to the beach and enjoy playing watersports.
7. Water Blow Nusa Dua Bali
This is one of the unique and the most stunning features of Nusa Dua. Do not get too close to the water as it can be dangerous. The water from the ocean blows towards the sky at this spot. You can enjoy this view from afar. The seascape creates a drama with the waves and peninsula. A spot is built so you can enjoy this view.
8. Pantai Mengiat Nusa Dua Bali
This is one of the most popular beaches in Nusa Dua. Called as Pantai Mengiat beach by the locals, you can enjoy watersports and sunbathe on this beach. With clear sand and crystal water, this beach offers a stunning view of the ocean. You can go surfing, swimming, as well as snorkeling on this beach.
9. Camel Safari Nusa Dua Bali
Enjoy peaceful camel safaris in Nusa Dua that let you get a view of the place at your own pace. The safari starts from Nikko Bali spa and resort and enjoys the camel rides along with various beaches. The package is minimum for two people and includes stops for lunch.
10. Geger Temple Nusa Dua Bali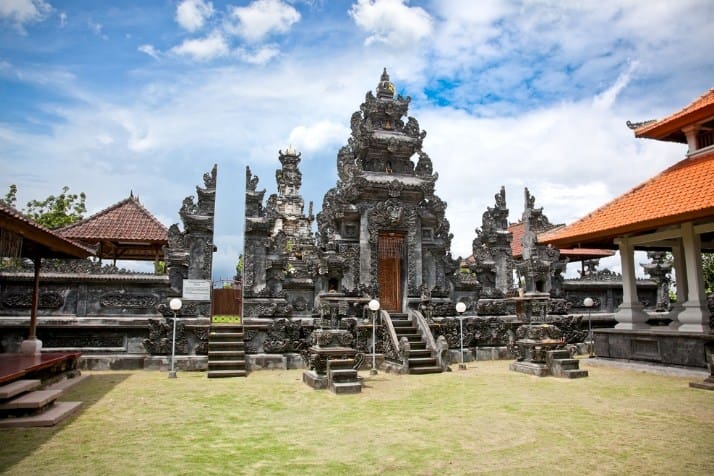 Situated on a cliff closer to the ocean is Geger temple. Surrounding this ocean is a 5-star luxury resort. This temple offers a landscape view for shutterbugs who enjoy photography. You can enjoy the view and take a look at the architecture of the temple.
11. Garuda Wisnu Kencana Cultural Park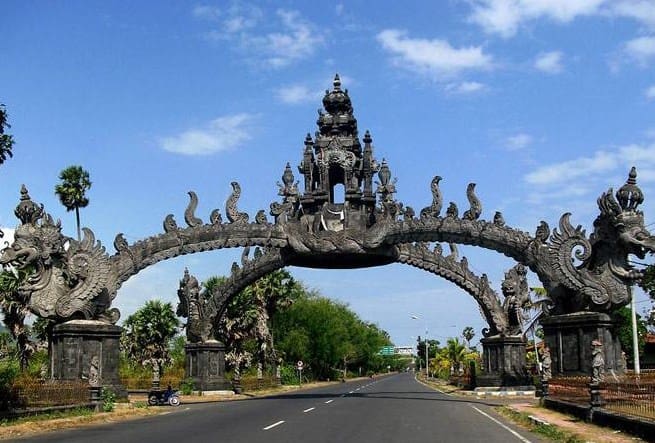 This is a cultural park nestled in the Ungasan hills. Take segway tours at this park and enjoy the view of stone sculptures and rock formations. The entrance has a large stone structure of the Hindu god Vishnu flying on his vehicle Garuda encompassing the lotus pond.
12. Puja Mandala Nusa Dua Bali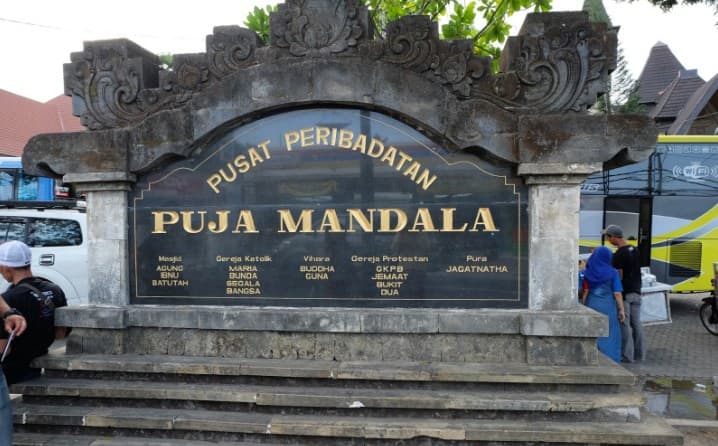 This site has a Hindi and a Buddhist temple, and a Catholic church, a Protestant Church, and an Islamic mosque. A cultural place that regards houses sacred places of worship of prominent religions of the world. A must visit the place to take a notice of unity in diversity in Nusa Dua Bali.
Shopping In Bali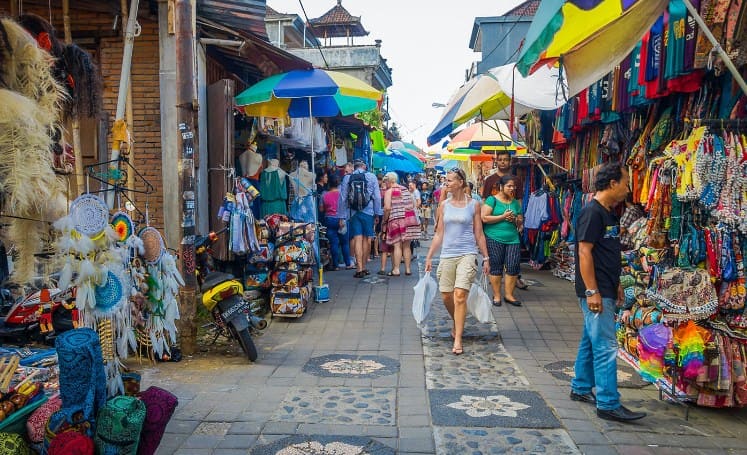 Find shops to buy Balinese souvenirs, coffee shops, eateries, restaurants, departmental stores, and also traditional Indonesian restaurants in this shopping complex.
Nusa Dua is a popular upscale district in Bali. For a quiet and a relaxing time you can visit this part of Bali, enjoy taking off the tours and packages that in the activities that interest you and take scenic photographs for memories.
Read More: Pink Sand Beach