Osaka in Japan is the second largest city and is popular for its cuisine and architecture. Popular for its history, food, and castles, this is the city that can be visited to explore the oriental culture of Japan. Osaka city being a part of the cluster of islands in Japan was hit by an earthquake in June 2018. This is a city that is susceptible to earthquakes through the earthquakes are not frequent Osaka Japan. Nanakai is a popular area in Osaka city and is subjected to larger and powerful earthquakes in the future. Tourists still visit this city as there are many attractions and place to visit in Osaka. Osaka is also the food capital of Japan and is popular for its variety of scrumptious dishes.
Osaka Sightseeing And Place To Visit in Osaka
Osaka Sightseeing And Place To Visit in Osaka
1. Shitennoji Temple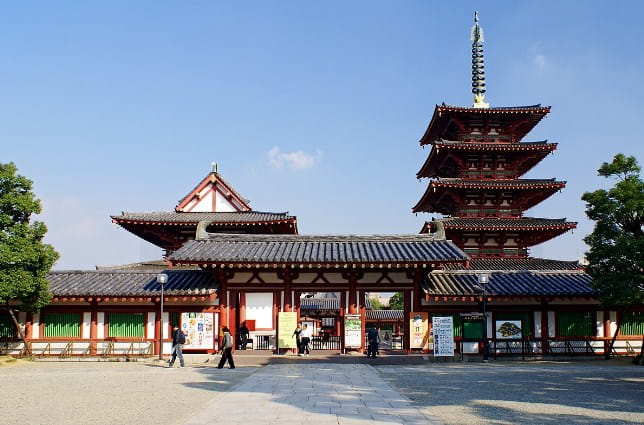 This is the first Buddhist temple built in Japan in 593 A.D. This is a temple standing strong in this area for 1400 years and is surrounded by flea markets and skyscrapers. You can visit this temple for its calmness. You can best time to visit Shitennoji temple anytime throughout the year.
2. Osaka Castle
This Osaka city castle has been built 1500 years ago and is one of the most significant tourist spots in Osaka. It is surrounded with cherry blossom trees and lush green. Worth a visit and look around. The architecture and the surroundings of this castle draw many visitors to this place every year.
3. Osaka Aquarium Kaiyukan
In the bay area of Tempozan Harbor village is the Osaka aquarium that displaces marine life with the most spectacular view. See white sharks and many other aquatic animals in these marine tanks inside this aquarium.
4. Tenjin Matsuri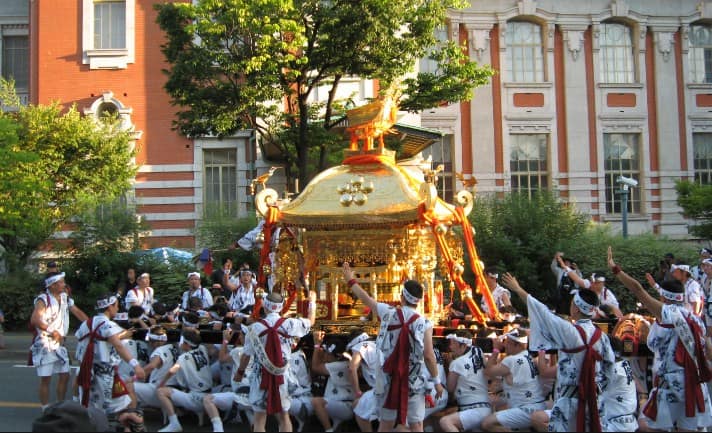 This is the festival that is celebrated in Japan since the 10th century. This festival is celebrated in the honor of the god of scholarship, Sugawara Michizane. The deity is brought from the shrine and a procession is held parading the deity throughout the city. Every year this festival is held on July 24 and 25.
5. Sumiyoshi Taisha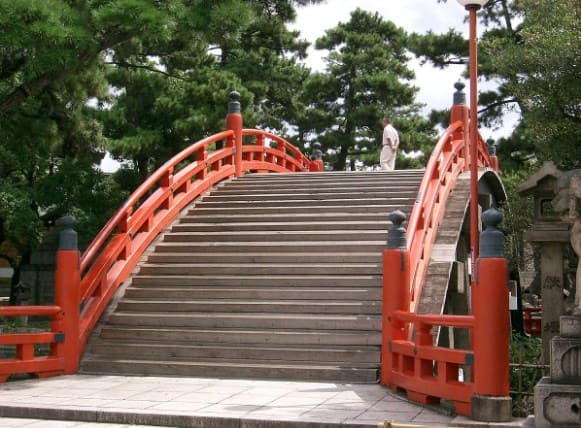 This shrine was established in the 3rd century. Built in the Japanese architectural style, it depicts the ancient culture of Japan even before Buddhism was introduced in the country. This is the shrine of the Shinto Gods who protect harbors and fishermen. Before the shrine is an arched shaped bridge that adds to the beauty of this shrine.
6. Craft Beer Tasting At The Kabuki Theatre
This is the only theatre in Osaka city that serves craft beer. It has a brewery inside. It also houses a restaurant where you can relish food after watching a show at this theatre. Japanese seafood is a must try at this place. It is common in Japan to eat tofu with beer.
Read more: Things To Know Before Traveling To Japan
7. Osaka Food
Street foods are a must try. You can add a unique taste to your platter by trying out the Japanese cuisine at Osaka. This is also one of the reasons Osaka city is called the 'Kitchen of Japan.' People of Osaka Japan are foodies and do not mind going bankrupt over eating the most delish food available here. Takoyaki and many other dishes here are a must try.
8. Osaka Museum
This is a large building with modern architecture that exhibits an ancient history of Japan using visual elements. There is an entire floor dedicated to collections in the museum that depicts various timelines in the history of Japan. Inside the museum is also a restaurant and a shop where you can shop for souvenirs.
9. Minoo Park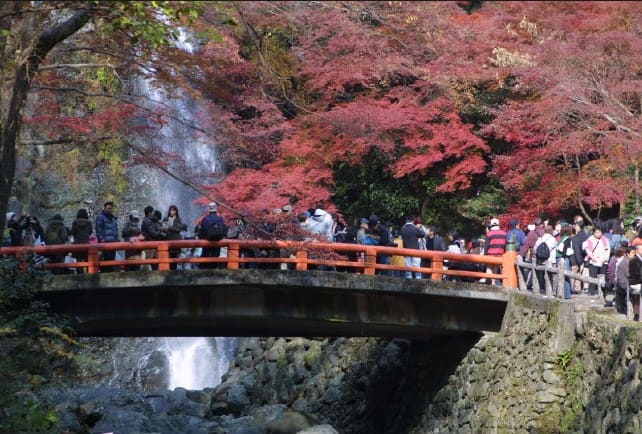 Outside the beautiful Minoo Park, the fried maple leaf is sold as a delicacy that you must try and taste. This park is on the outskirts of Osaka and is a valley with a forest of beautiful flowers and waterfalls. This is one of the best-hiking sites in Osaka. You can take a walking trail to this park from the Hankyu Minoo station which is a walk of 45 mins.
10. Expo Commemoration Park Osaka Japan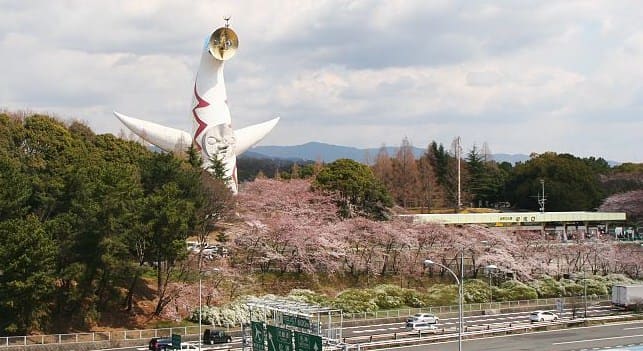 The place to visit in Osaka is a large park and has landscape garden, a pond where you can rent a boat, theatres, shopping centers, museums that have exhibits and artifacts, ceramic tiles, paintings, and many other items that you can take a look at.
11. National Museum Of Art
Located on the Nakanoshima island is a large museum of art where 2 floors underground have artworks and some special exhibits are displayed. This is the museum that is designed in the shape of a bamboo plant and has a unique structure.
12. Grand Front Osaka Japan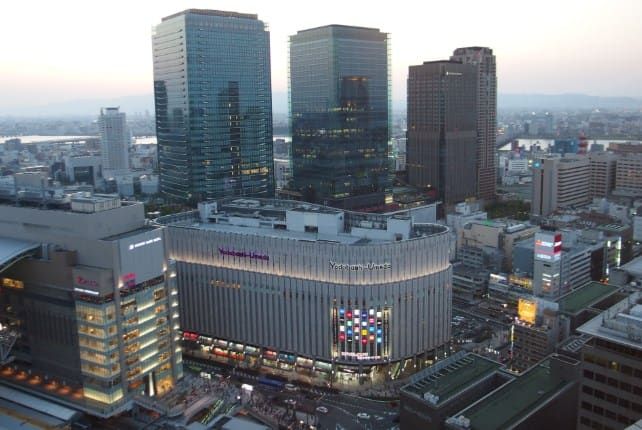 This is a commercial complex in the Umeda district. It has walkways, shops, and restaurants. This complex has a skyscraper in the Southern part and has 6 floors. The railway is well connected to this place. You can find shops that have products in the latest technology from different brands.
13. Shinsekai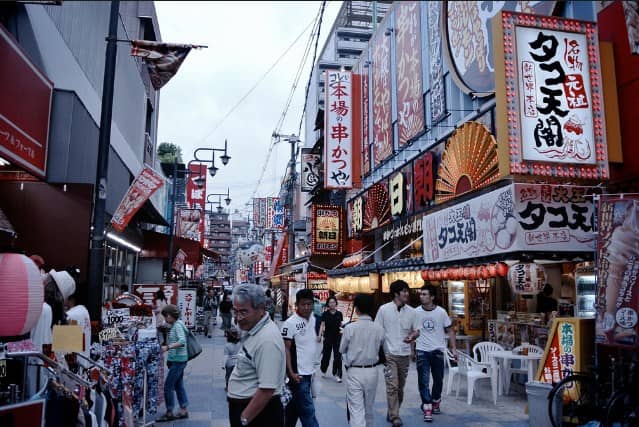 This is a colorful district where you can take a selfie in the surroundings. Tsutenkaku Tower in this district is 103 meters high and is a tourist attraction in this district. I was destructed during the WWII and reconstructed again. Most of the restaurants in this district are open 24 hours and serve special delicacies in all food categories.
14. Umeda Sky Building Osaka
The place to visit in Osaka is a spectacular skyscraper in the Kita district. This building is 73 meters high and has two towers that are connected by a floating garden observatory that provides a great bird's eye view of the city. This is placed on the 39th floor. On the ground floor, you will find many restaurants.
15. Universal Studios Japan
This is the first theme park built in Osaka in entire Asia for the first time by this brand. Located in the Bay area this is a large amusement park and has 8 zones that depict themes like New York, Harry Potter, Jurassic Park, and more.
Osaka Japan is a home to foodies, both locals and tourists. You must try a variety of Japanese cuisine when you visit Osaka apart from the ancient and modern complexes. Osaka is a city which is a blend of ancient culture and modern architecture. Street food and nightlife are what you can enjoy in this urban city.
Read More: Visit Spain Attractions
Featured Image Source