Peace and solitude seekers can visit Kanatal, a small and a serene town in Uttrakhand. Mountains, green forests, apple orchards, and landscape beauty makes this place popular amongst tourists. Many hill stations, such as Dehradun, Chamba, and Mussoorie are closer to Kanatal. Kanthal is a hamlet that is scenic and a place where you can relax and take walking trails. These are so many places to visit in Kanatal and lots of things to do in Kanatal Uttarakhand.

Kanatal Snowfall Season
Kanatal Weather
Delhi To Kanatal
Places To Visit In Kanatal
New Tehri Garhwal Places To Visit In Kanatal Uttarakhand
This is a picturesque town in Kanatal that has many scenic spots and is surrounded by mountains. The Tehri Dam is Asia's largest dam. For nature lovers, this is one of the most beautiful towns you can visit in Uttarakhand. There are many ancient temples with its history linked to Mahabharata and are important to the locals. There are the Himalayas overlooking the turquoise blue Tehri Lake gives a postcard beauty that you can capture in your cameras. Visit the lake, temples, Tehri dam, as well as Khatling glacier in New Tehri, Kanatal Uttarakhand.
Places To Visit In Kanatal  Dhanaulti Hill Station
This is a small town in Kanatal that takes you away from the hustle bustle of daily life. There are many places to visit in Kanatal in Dhanaulti, such as Eco Park, Camp Thangdhar, Dhanaulti Adventure Park, and Potato Farm. You can do many adventure activities in Dhanaulti like rock climbing, rappelling, exploring caves, sky walking, and more at this park.
Kodia Jungle Trek Places To Visit In Kanatal  Uttarakhand
This is located 1km from Kanatal and is a trekkers paradise and photographers. Get a scenic view of the lush green forest on either side of the road while you take the nature walk. Inside the jungle are many natural springs and valleys. You can also spot wildlife like wild boar, deer, and many other habitats of the jungle. Kanatal camp is one of the famous things to do but don't try that here.
Places To Visit In Kanatal  Chamba Tourism
This is a hill village or hill station that is 17 km away from Kanatal. With a rustic charm and a view of a picturesque landscape, Chamba is a cusp of old charm meets scenic views.
Surkanda Devi Temple Places To Visit In Kanatal  Uttarakhand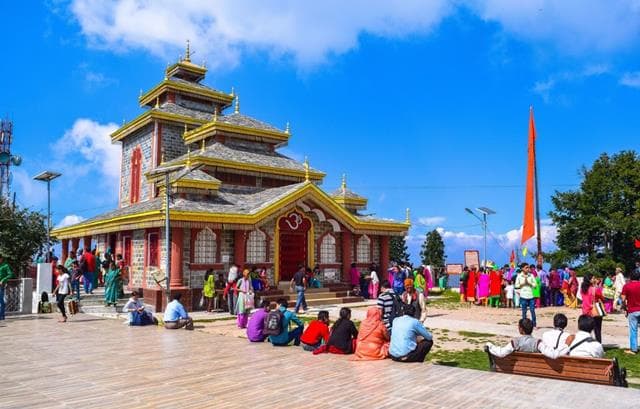 This is a temple in Dhanaulti dedicated to Goddess Sati. It can be easily reached by trek. You can get the view of the Himalayas from this temple. It is surrounded by lush green, flora, and fauna.  Here you can try Kanatal camp.
Places To Visit In Kanatal Heights Camp
Kanatal eights are located at 8400 ft above sea level in Dhanaulti and the best place for nature and adventure lovers. This is an eco-camping area, where you can camp at a height and get a view of the Himalayas, enjoy the night star gazing, and many more adventures activities. You can play indoor as well as outdoor games in Kanatal Heights. Zip lining, trekking, sky bridge, and many more outdoor activities are available in Kanatal camp.
Things To Do In Kanatal
Camp Jaguar Kanatal Tehri Uttarakhand
The Little Jaguar camp site offers obstacle courses such as Jaguar Bridge, Commando Net and more. Stay at these campsites amidst the lush green is a pleasant experience. Outdoor things to do in Kanata play the games such as, football, volleyball and cricket are available. This campsite is ideal for team building.
Things To Do In Kanatal Adventure Camp
There are many trekking sites where you can go trekking and on nature walks. Most of the Kanatal camp sites offer adventure activities with the backdrop of Himalayas. You can capture the beauty of nature in treks and nature walks. This is one the best things to do in Kanatal, by doing this  You can also relax at the ayurvedic and spa centers.
Hilltop Experience In Cottages Things To Do In Kanatal Uttarakhand
Stay in a cottage that is at an elevated height from the sea level and enjoy the panoramic view of the hamlet with mountains and valleys easy to view. You can play a lot of indoor games inside these cottages such as tambola, cards, and carom.  But there are more outdoor things to do in Kanatal so don't waste your time by playing indoor games.
Things To Do In Kanatal Terrace Stay
The Terrace is a spa resort located within the forest where you can get luxurious treatment and the alluring charm of the forest with the Chiring of birds. Here you can go river rafting and on jeep safaris. Enjoy pool crossing. Bonfire nights, and many other outdoor activities available at this place which you can enjoy with your friends.
Pahadi House Kanatal Uttarakhand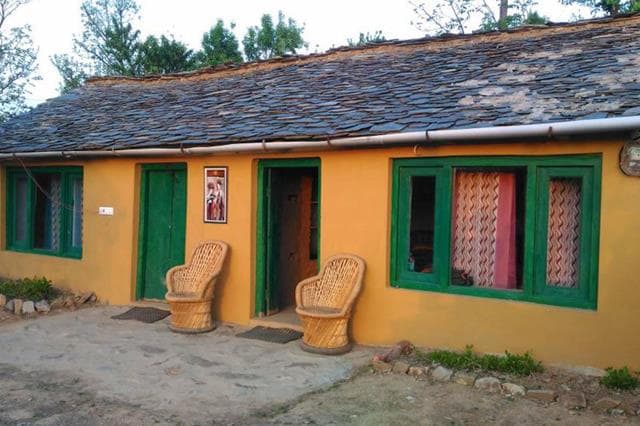 Get a taste of Garhwal traditions by option for a homestay at the rustic Pahadi region. Experience the daily rustic life in the rural areas of the hamlet. There are also many options for trekking Kanatal and nature walks in Kanatal.
Kanatal Snowfall Season
Kanatal snowfall season starts from October to March. The best time to visit Kanatal to enjoy the snowfall is between January and March. The temperature is bearable and you can enjoy the view of scenic roads and snow clad areas in the winter season.
Kanatal Weather
Kanatal is a hamlet that can be visited throughout the year. The Kanatal weather in summers are pleasant, Monsoons have heavy rains, and winters have snowfall. Summer is between April and June. Monsoon between July and September, and Winter between October and March.
Delhi To Kanatal
The distance between Delhi to Kanatal is 302 km and can be reached by road. One of the best routes to take to Kanatal from Delhi is by car. You can drive through many scenic areas and enjoy the long drive at this place.
Delhi To Kanatal By Train
Delhi to Kanatal by train is a 6 hours journey. Doiwala is the nearest railway station that you can take to reach Kanatal. From there you can take a taxi service or public bus service.
Delhi To Kanatal By Bus
You can choose the government or the private buses to reach Kanatal. Sleeper coach, as well as semi-sleeper coach private buses, are available which you can book online.
Delhi To Kanatal By Car
You can hire a car or a taxi from Delhi to reach Kanatal. Hiring the car is the best option if you are traveling with family. You have to pay the toll tax when you hire a car.
Kanatal is a scenic hamlet and a weekend getaway for many. You can choose from many camping and sightseeing tours and enjoy the stay of two to three days at Kanatal.
Read More: Historical Places In India Tour