The most popular Magic Kingdom Park in the world is located at the Walt Disney World Resort in Orlando. It is a place where you will relive your childhood and have all those dreams come true. With over 40 magic kingdom attractions, thrilling magic kingdom rides, themed fine dining, shopping enclaves, and countless other attractions, Magic Kingdom is a place unlike any other on earth.

Guide To The Magic Kingdom Rides And Magic Kingdom Attractions
The Disney Fastpass + Experience
Guide To The Magic Kingdom Rides And Magic Kingdom Attractions
With so many options for thrilling rides and lots of other attractions, there will be no shortage of excitement for you at the Magic Kingdom. Walk through the enchanted lands and mesmerizing places to intoxicate yourself with the beauty of the whole area. Bring out your inner child, be spontaneous, and fully indulge yourself in all the adventures at the Magic Kingdom. When there are so many things to enjoy, one can hardly stop smiling.
And that is not all. You get to end the day with an 18-minute display of the most insane fireworks. Prepare to have your breath taken away as the night sky is lit up with wonderful lasers, lights, and special effects.
We will now discuss the best and worst Magic Kingdom rides so that when you plan to visit the Disney Magic Kingdom, selecting only the best of rides becomes easy for you. There are so many attractions in the Magic Kingdom that might you end up confused. Instead of picking random options for rides, choose the most popular attractions in the Disney Kingdom and make create moments that will make you nostalgic when you revisit them in the future.
The Disney Magic Kingdom has been entertaining people since 1971. Being the best theme park in the world, it has the most innovative attractions that you should not miss at all. Overall, the theme park is a mix and match of favorites and disappointments. It is impossible to have a glimpse of all the Disney Magic Kingdom attractions in a single day. However, you can go for the following options that we have shortlisted for you.
Haunted Mansion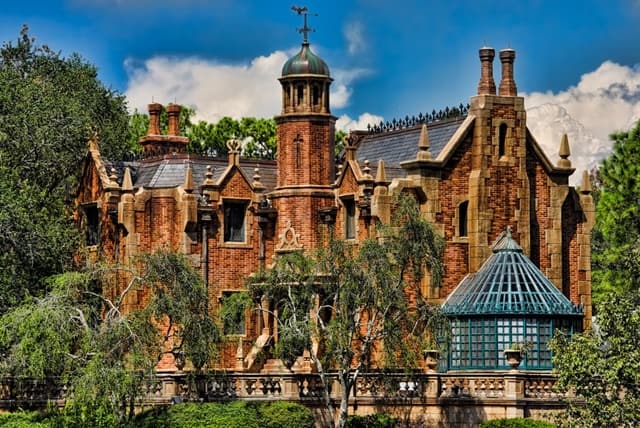 The renovated version of Haunted Mansion is definitely worth visiting. While you are searching for some viable options for Magic Kingdom attractions, Haunted Mansion is one such ride that can give you a live experience with ghosts. The distinct experience will give you confusion over whether to laugh or cry in the middle of the ride. One thing is assured that you will safely land out of the ride and the experience will stay with you for a very long time. The overall sights and sounds are entertaining but disturbing when they create nostalgia. The Haunted Mansion is not recommended for young children as it can create an eternally negative impact on their minds. Parents are advised to avoid taking children who are younger than 14.
Happily Ever After
Happily Ever After should be your last ride in the Magic Kingdom. Filled with fireworks and creative Disney shows, you should never miss it if you are planning to pay a visit in the theme based Park. The mammoth Cinderella Castle that has fireworks exploding above it can take quite a lot of time. You should reach the place at least 45 minutes before so that you do not miss the brilliant arrangements.
Read More – Activities In Hong Kong Disneyland Rides On Your Hong Kong Trip
Seven Dwarfs Mine Train
The latest add-on to the Magic Kingdom rides is the Seven Dwarfs Mine Train that is smooth and popular in the Walt Disney World. The minimum requirement for the roller coaster ride is 38 inches. We recommend the Seven Dwarfs Mine Train only if you do not fear heights.
Space Mountain
Apart from discovering the best Magic Kingdom rides, you must also try to find out more about the attractions available in the place. Space Mountain is one such attraction that we could not avoid mentioning. The blast of Disney can be seen in this particular place. Cinderella, mountains, castle, space, and everything about the theme-based ride is wonderful.
A dark roller coaster ride will take you to Space Mountain through an outer space-themed area. The tunnel ride will definitely drive you crazy with some attention-grabbing scenes. The fast pass attraction is highly recommended if you want to give a different experience to your kids.
The roller coaster ride is not at all recommended for people who have motion sickness, heart diseases, or other similar health issues. Also, avoid the ride if you are pregnant or having a young child along. Riders are taken to a height of 180 feet before they can board the roller coaster ride.
Pirates Of The Caribbean
Do you love ghostly sightseeing? If yes, nothing can be better than the Pirates of Caribbean ride which is based on the popular movie series. If you are a fan of Captain Jack Sparrow, you will love the Dungeon queue and other pirate-themed attractions. The gentle ride is filled with surprises. It has a major descent that can give a mini heart attack to the faint-hearted riders. Beat the summer heat with the Pirates of the Caribbean which is cool enough to give you temporary relief from the high outdoor temperature.
The best part about the ride is that there are no restrictions on height and age. However, we would recommend not taking small children along as they might get scared of the visuals. You can go for a Disney title switch program in order to avoid waiting in the long queues for tickets.
Dumbo The Flying Elephant
Like its interesting name, Dumbo The Flying Elephant provides lots of fun, happiness, and relaxation. Whether you have little children with you or just a group of adults like yourself, Dumbo The Flying Elephant has entertainment arrangements for everybody.
Read More –  Disneyland Paris Rides: Disneyland Paris Tickets
Jungle Cruise
The long list of Magic Kingdom rides lets you have a glimpse of hippos, piranhas, lions, cubs, and many other creatures. The non-stop entertainment from jungle cruise has an element of humor and confusion. If you love to skip, this particular attraction will make you love it like anything. However, if you cannot, then you might end up quitting in the middle of nowhere.
Thunder Mountain
This is yet another fantastic Magic Kingdom ride that is based upon the Runaway Mine Train. It will provide you plenty of thrills. The roller coaster ride is scary and overwhelming in its own way. Children might not enjoy the right but elders will definitely love the way things work. The bumpy attractions on Thunder Mountain are a highly adventurous option for young adults.
Mickey's Philhar Magic
Disney animation reconstruction has a combination of several characters including Mickey Mouse and Donald Duck. Nineties kids will definitely find this particular attraction from the Magic Kingdom to be great. There is no better afternoon escape than spending time at places like Mickey's Philhar Magic.
Monsters Inc. Laugh Floor
The stage show is not about providing any kind of fast-paced ride. It delivers some holistic entertainment. In other words, it is a complete package for middle-aged individuals as well as young adults. With the humorous appeal, Monsters Inc. Laugh Floor will definitely make you enjoy it while you relax on some comfy chairs. However, there are often adult jokes that can make certain audience members feel slightly uncomfortable.
Festival Of Fantasy Parade
Rated 9 out of 10, the Festival of Fantasy Parade is indeed one of the best Magic Kingdom attractions. The float has always been attention-grabbing with numerous features. The breathing-fire view accompanied by costume-based performances has a catchy soundtrack. Do not forget to check it out.
The Disney Fastpass + Experience
You can customize your Disney experience and choose the plan that suits you most with a  ticket. The Disney FastPass + will help you bypass the long queues at the rides, the various shows, and character greetings at the Walt Disney World Theme Park. The FastPass+ is your rescue mission from the regular standby queues. In a single day, you get to choose three attractions at the Magic Kingdom with the help of FastPass+. Once you have utilized this thrice in a day, you will then be able to enjoy the FastPass+ experience one by one on your mobile or at a kiosk inside the park. The list of eligible attractions under the FastPass+ changes regularly. To check out FastPass+ eligibility for your visit, visit the My Disney Experience website or app.
Magic Kingdom Transportation Tips
The Magic Kingdom has 6 differently-themed lands. All of these have different focal points and attractive features. You can travel by car to Magic kingdom whether or not you stay in Disney resort. But you will need to park your car in the parking lot. You can get to the park by taking Tram till TTC or through ferry or monorail to make your way over to the Magic Kingdom Park.  If you are staying at any Disney resort then you can also take complimentary bus service to the Magic Kingdom. Hop on board the Walt Disney Railroad Express for a quick tour around the whole facility or simply walk around to enjoy the best Disney World Park
Related Article links –