A city in northwest Florida, Destin is situated in the area known as the Panhandle. The Emerald coast located in this place has stunning white beaches, golf courses, and world famous fishing activities as its main features. The picturesque beauty of Destin is contributed by the presence of sugar white sands and emerald-hued waters. Nestled in the Gulf of Mexico of the northwest part of Florida, Destin is also known as the 'world's luckiest fishing village'.

The presence of this type of quaint and vivid beauty of its beaches has made Destin, Florida quite a famous tourist location in recent times. Well, if you are planning to visit here and want to delve into the matters of this region to plan your holiday perfectly, then below is the perfect guideline that will help you in doing so. Starting from where is Destin Florida to the best things and the top attractions in Destin, Florida we have got it covered in complete details.
1. Where Is Destin Florida Located
Many of you might be wondering where in Destin Florida. Destin is a city in the northwest of Florida in the area known as the Panhandle.  It is situated near the Gulf of Mexico which has its nature trails passing through the dunes of Henderson Beach State Park. This region has innumerable pine and oak trees that add to the beauty of its coastline.
2. Best Things To Do In Destin, Florida Especially For Families And Couples
Being an epitome of the perfect beach holiday destination, there are many things to do in Destin Florida as this place has many things in store for its tourists who come here with great holidaying expectations that know no leaps and bounds. This small and quiet fishing village has become such a famous holiday destination that it has now promoted itself through its incessant efforts of being known as 'The World's Luckiest Fishing Village'. Let us take a look into the top 10 tourist attractions in Destin, Florida:
2.1 Crab Island
This is one of the most sought after attractions in Destin, Florida. One who visits the Emerald Coast will hear a lot about this island. It is one of the top summertime beaches that have an underwater sandbar and some popular places to anchor the boat. The water is shallow here which becomes crystal clear during high tide. Located at the entrance of the Choctawhatchee Bay, inside the Destin's east pass, the locations are said to be unique because it is open to the inflow and outflow of the crystal clear water from the amazing Gulf of Mexico.
A lot of activities like snorkeling and relaxing on the boats can be done here by any age group. You get boiled peanuts, sandwiches, ice creams and many other food items that can be enjoyed while paddling a boat or kayaking. The Crab Island water park is an amazing spot for children that can also be used by older people for partying or enjoying the music by local bands. There is always plenty to do and see here. Though this is a party destination, it is still quite a family tourist place too because of the many family-friendly activities like snorkeling, tossing a football or a Frisbee or taking a float on a raft.
2.2 Fishing
Fishing is quite a famous and favorite Destin activity among both the locals and tourists of this area. Every person gets to experience their deep sea fishing and nearshore excursions. The area is quite near to the east pass and the Gulf of Mexico and that is why it is an ideal location to find red snapper, grouper, triggerfish, and amberjack. The Choctawhatchee Bay that is situated in the North of Hilton Sandestin Beach also serves as a great fishing spot. This bay teems with redfish, oysters, gulf menhaden, blue crab, flounder, striped mullet and white mullet.
2.3 Spotting Dolphins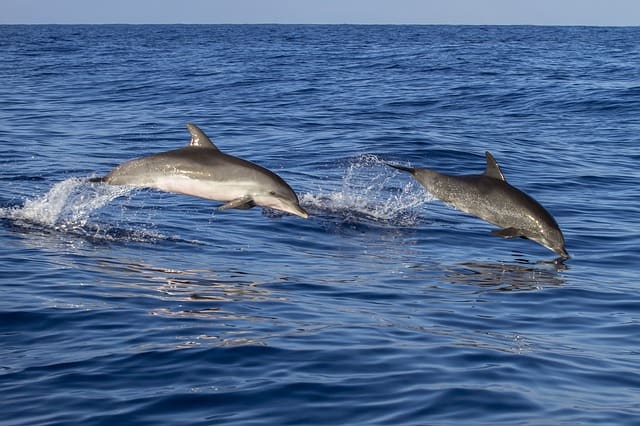 Being the most popular and loved sea animals, dolphins are found in abundance in Destin Florida. There are ample chances for vacationers to spot them on the Emerald Coast. These dolphins can be witnessed in the waters of the Emerald coast all year round because of the perfect living conditions that the water provides for them for which these dolphins need no reason to migrate elsewhere. The dolphins are found in pods and the most popular types spotted are the bottlenose dolphin.
Okaloosa Island is a great spot for watching dolphins. Other areas where these can be found are Crystal Beach, Eglin Beach Park, Miramar Beach, and the Henderson State Beach Park. They are the most active ones during the daybreak and must be spotted with binoculars to get a clear look of them. One can rent a pontoon boat to experience the fun of watching these dolphins.
2.4 Parasailing
Parasailing in Destin Florida is believed to give an enthralling experience. Believed to be a breathtaking happening, the parasailing experience allows one to spot turtles and dolphins when one spot down from a great height. The activity has the following highlights:
Fly at a height of up to 500 feet
Lets at least 3 people to fly together
Great activity for families
Has 23 years of parasailing experience
Serves millions of satisfied customers
After purchasing the tickets for parasailing online, one needs to bring a photo ID proof at the Destin Harbor location. But this is a seasonal activity and is available from March to November. Daily departures are available from 9am-5pm.  Also to parasail unsupervised, the customer needs to be at least 18 years old.
2.5 Gator Beach
This is a wetland pond with around 100 live alligators. There are regular shows held throughout the day which is absolutely free. There are short educational shows held by the alligator handlers who can also help to get a picture with the alligators. Located at the Fudpucker's Beachside Bar and Grill, there are lots of eateries too which may this place an even better location to hang out.
2.6 Other Beaches At The Destin
There are many public beaches access points in Destin Florida that will help you have the perfect beach holiday. Each beach varies in their amenities that make a perfect place for picnics or a visit to the beach bars that offer great drinks to sit down lazily and watch the beautiful waves roll by. There are also showers and bathroom facilities in the area down the Crab Trap that makes it easy for families to stay fresh.
2.7 Big Kahuna's Water Park
This water park has around 40 different water play areas, rides, slides, and pools. In fact, it is believed to be the perfect water park destination for families. There are rides like the kowabunga racer, hammerhead, monkey river, cobra twister, Honolulu half pipe, Jumanji, Maui pipeline slides, tiki river run, and the kiddie slides. There are cabanas available too and some food locations in this waterpark that offer mouthwatering BBQ.
2.8 Destin Harbor
This offers boardwalk, boats as far as one can see and endless lines of restaurants and bars to choose from. This beach is not the perfect spot to have the perfect beach time. But one can enjoy this beachside by renting boats, jet skis, parasailing, and many such other similar activities. The great fishing experience of this place also offers exotic seafood and also has family-friendly casual dining to locally owned seafood restaurants. Other attractions of this place are parasailing, snorkeling and many such similar ones. Also, the Artwalk on the Harbor and the Mardi Gras parade happen here.
2.9 Bike Rentals
The Destin Florida is perfect for biking experience. The area has a great selection of beach cruisers, kids bikes, tandems, sport comfort, and many such similar bike types. They have also added some new biking experience in the year 2018 like Fat Tires and Electric Bikes. The bikes can be rented on an hourly or weekly basis. A bike ride can be taken from straight from the Coastal cruisers to Scenic 98 to have a fun ride on bikes and scooters.
2.10 Gulfarium Marine Adventure Park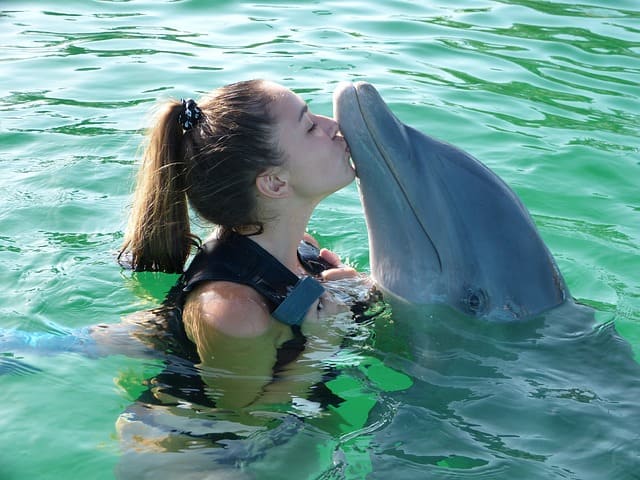 This sunset camp offers an amazing experience for kids and their parents by extending their dockside encounter with dolphins, an exploratory experience along the Emerald Coast at dusk, ocean-themed activities, scavenger hunt and a delicious dinner at Seal Harbor. There are shows like dolphin show, sea lion show, otter chat, penguin chat, reptile chat, harbor seal chat, living sea chat, and shark chat. These shows are available at both spring and summer schedules. So look for the ones that suit your holiday timings perfectly.
Read more – Magic Kingdom: An Alluring Land to Turn Your Fantasy Into a Reality
3. What Activities Are There For Adults And Couples In Destin Florida At Night
A trip is incomplete without enjoying the nightlife of Destin. This nightlife is perfect for couples and adults as these people are guaranteed to have a blast. Lets us take a close look at such things:
3.1 You Can Dine At The Beach Water Cafe
The Beach Walk Café s located at the Henderson Park Inn that is perfect for a romantic dinner. It offers picturesque views of the Gulf Of Mexico with signature seafood. Also, couples can have their dinner at the beachside with a special package called the 'Toes In The Sand'.
3.2 Enjoy The Fire Pit Setup
The beachside fire pit can be used as another form of activity by the adult tourists of Destin. You can simply sit by the fireside that is set up at the beachside and enjoy an adult drink or the silent night sky.
3.3 Music At The Funky Blues Shack
The music of this place is visited to be the Best Live Music Venue that offers electrifying performances for its night guests. Also, guests can submit their requests so that their favorite classics can be played.
3.4 Have A Drink At The Horizon
This unique octagonal designed bar is one of the most famous ones in Destin that offers a panoramic view of the Gulf Of Mexico. So, it is quite a great idea to enjoy drinks and food with such a view.
3.5 Visit The Harborwalk Village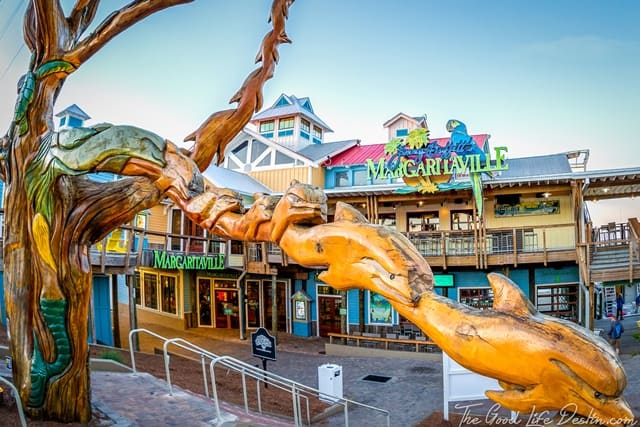 This village should be among the list of must visit places in Destin as this offers a wonderful collection of restaurants, shops, food trucks and bars that is quite a perfect hangout for adults. The summertime witnesses free concerts and firework displays and it is really a thrilling pace to hang around here at night time.
Read More – 15 Things To Do In Bora Bora Vacations
4. Which Is The Best Time To Visit Destin Florida?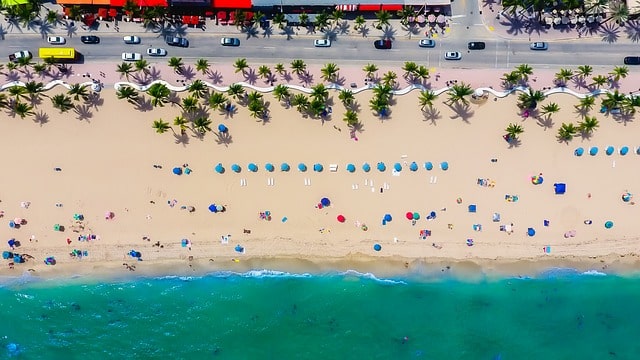 The best time to visit Destin is in the months of April May when the weather is warm and the temperatures are quite bearable. An earlier visit to Destin form the months mentioned above will make one face cool and chilly weather. A summer trip means crowded tourist destinations and peak prices everywhere. Late summers are again not quite a good idea as the weather will be accompanied by spells of rain. A brief account has been provided below to help you decide which the best months to visit Destin are:
Destin Florida Weather In January
During this month, the length of the day begins to increase and the muggy feeling due to high humidity gradually decreases. Concerts are held in Destin HarborWalk Village. Also one can witness the 30A Songwriter's Festival. This is also the month when actor Jason Alexander appears at the Mattie Kelly Arts Center for a special show.
Destin Florida Weather In February
During this month, the daily temperature rarely falls below 52 degrees F. The weather is perfect for Valentine's Day celebrations. Also, the Mardi Gras Pub Crawl takes place where tourists enjoy spectacular floats, exciting street performances, and live entertainment too.
Destin Florida Weather In March
This month marks the onset of the spring season that makes the Emerald coast beautiful all around. This weather in Destin is ideal for golfing and other activities without breaking a sweat. One will also get to experience the Tequila and Taco Fest held at the HarborWalk village in the month of March. Also, St.Patrick's Day is celebrated with great pomp and show during this time.
Destin Florida Weather In April And May
April and May are great months for Destin vacationers as one can break out in the swimsuit. Visitors get the perfect atmosphere to soak up the sun. Jet skiing, snorkeling, scuba diving, and many other similar activities are what people get to experience during this month. Excellent concerts are held too. Also, the Sandestin Wine Festival is a complete can't miss the event and is also known as the 'Best Annual Event'.
Destin Florida Weather In June To November
As the spring transitions to the summer, the month of June is a good reason to visit Destin Florida. There are comfortable weather conditions throughout June where one can easily snorkel, laying in the sand or go for a swim. There are weekly concerts held at the Mattie Kelly Cultural Arts village every week.
5. Weather Conditions In Destin Florida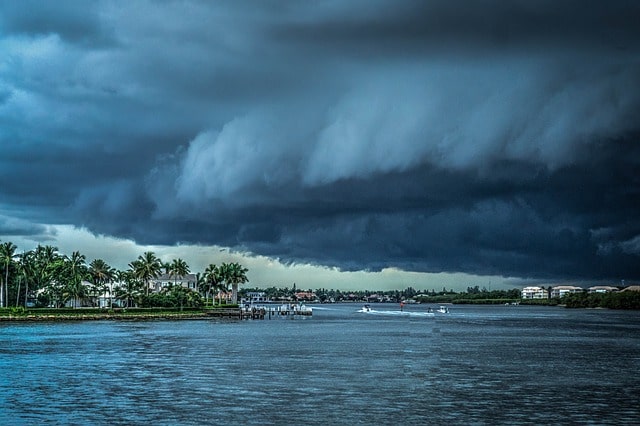 Spring: the most popular and much awaited season for Destin is the summer months from April to August. The average highs during this time are between 31 to 32 degree Celsius. This is also the time when the Atlantic hurricane season starts from the month of June.
Monsoon: Rain hits the coasts of Destin Florida during the month of September. November is the end of the wet season but in particular the months between June to November witnesses the Atlantic hurricane.
Winter: December, January, and February are the coldest months with an average temperature of maximum 18 degree Celsius. Tourists are found during these months but hardly anyone is seen hitting the beaches.
6. How To Reach Destin, Florida?
This pristine destination along the Gulf of Mexico can be reached in the following ways:
6.1 How To Reach Destin, Florida By Car
Interstate 10 is an easy option t travel from other southern cities. This runs across the southern United States, through Los Angeles, Phoenix, El Paso, San Antonio, Houston, New Orleans, and Jacksonville. I-10 is around 50 miles north of Destin along with U.S. Route 98, an east-west highway that runs directly to the Fort Walton Beach, Okaloosa Island and Miramar Beach.
Once you reach Destin, Florida the driving gets quite easy. Though there is traffic in the busy tourist months, yet you can easily find a place to park the car at beaches, restaurants and popular tourist destinations. Another option is to take the beautiful route of Scenic Highway 98 to get to Destin's colorful paradise that is laden with beaches and palm trees.
6.2 How To Reach Destin, Florida By Plane
The closest airport to Destin is the Destin Fort Walton Beach Airport which is around 16 miles away from Valparaiso. There are other airports too connected to the airport of Destin. They are:
Northwest Florida Beaches International Airport-this is 52 miles from Destin
Pensacola International Airport- this is 56 miles from Destin
Tallahassee International Airport- this is around 165 miles from Destin
Also, one can also take their private jets or charter a single-engine plane to fly to the Destin Executive Airport. The other option is to pay for a helicopter tour of Destin to navigate the area and its beauty from above.
7. Hotel Availability In Destin, Florida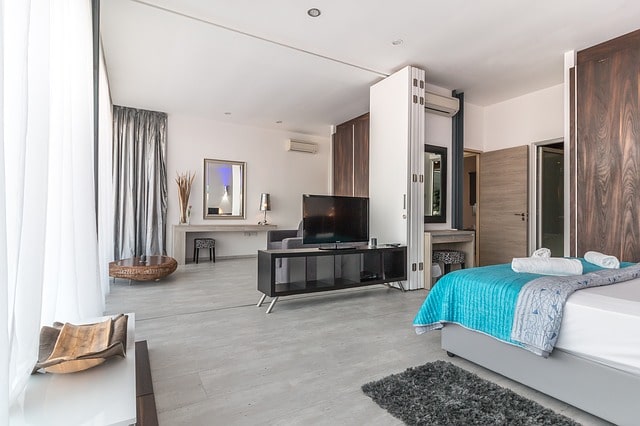 Located on the Emerald Coast of Florida, Destin gets its name from the clear green water. The beaches in Destin have very fine soft sands, which are ideal for the beach walkers, and making sand castles. If you are a beach lover, this could be a great destination for you.
Worrying about where to stay? Well, there are many places to stay in Destin. You can be sure to find the right place for yourself.
There are different types of hotels available here. If you are traveling with your family, you can look for the motels, resorts, family hotels, beach hotels, green hotels, or the luxury hotels depending on your preferences and budget. Some of the best ones are Embarc Sandestine, Residence Inn, Fairfield Inn & Suites, etc. If you are traveling with your friends or a special one for a relaxing vacation, you can look up to the spa resorts, campgrounds or the romantic hotels, such as Camp Gulf, Destin RV Resorts, Destin Inn & Suites, etc. However, if you are traveling for business, there are a number of business hotels available as well, such as Embassy Suites, Courtyard, Candlewood Suites, etc.
8. Why Is Destin's, Sand White?
Destin Florida has the most beautiful and because of its white color and homogeneity. The sand consists of small quartz particles that happened due to a process between the Appalachian Mountains and the Apalachicola River some 20000 years ago. The Apalachicola River has been carrying water to the Gulf of Mexico since then along with some quartz particles in it. This is why Destin Florida has this unique beauty in its white sand.
Read More – 10 Best South Pacific Islands For Vacations
9. How To Save Money In Destin
√ Choose The Connected Airports To Fly To Wisely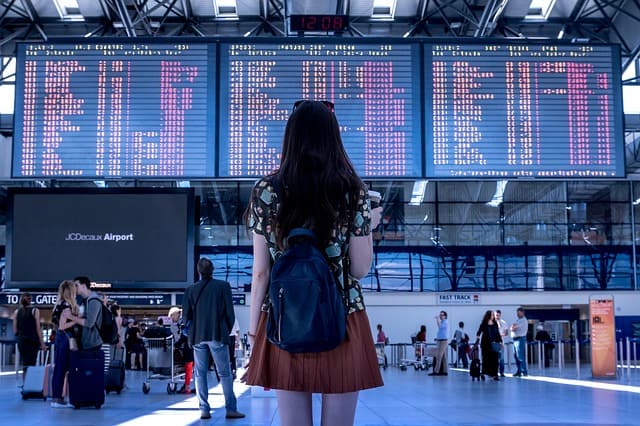 There are three medium-sized airports that are within quite a reasonable distance from Destin. They are the Destin Fort Walton Beach Airport, Pensacola International Airport, and the Northwest Florida Beaches International Airport. Explore the flight and rental car options so that you can easily travel within a short span of time without much spending on travel.
√ Visit On May Day
May Day is the perfect time to visit Destin as this is the time when the room rate drops and daytime temperatures are quite favorable too.
√ Use Two Wheelers Than Using Four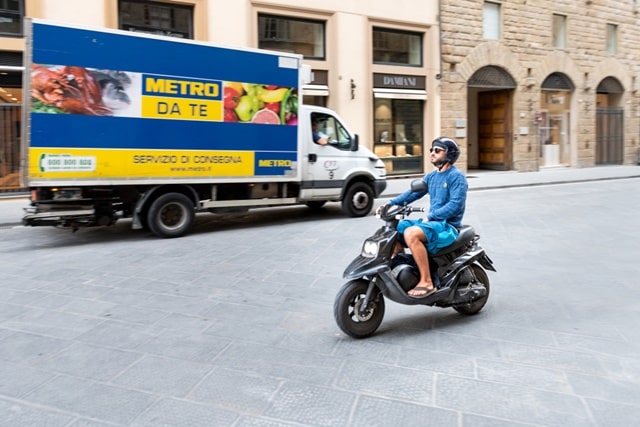 Hop on a bike to easily get to the locations you aim at visiting while in Destin. Four wheelers mostly come with the hassle of getting stuck in the endless traffic here. Also, bikes will help you save on gas and parking fees.
10. Safety Measures When In Destin Florida Beach
Destin Florida is very safe but danger by nature is always unpredictable. Especially, if one is at the beach one should know about the flag system. A green flag denotes the swimming conditions to be safe, a yellow denotes a medium hazard like undercurrents and a red flag means conditions are dangerous. Two red flags denote that swimming is prohibited and a purple flag warns swimmers from the presence of marine pests. Also, be sure of the presence of a lifeguard before plunging into the water.
11. Destin, Florida Map
12. Destin, Florida Images
Related Article links –