Maa Kamakhya Devi is a form of Goddess Parvati. The temple dedicated to goddess Kamakhya is one of the shakti Peeth located in Guwahati in Assam. When Sati's corpse was mutilated, her yoni fell at this place. She is the bleeding goddess who menstruates. Childless couple prays to this goddess for children. She is a tantric goddess who fulfills all desires and provides salvation. She is the bride of Lord Shiva who had come to this place in secret to copulate with him. It is said that in the month of June the goddess menstruates and the river Brahmaputra turns red at that time.

1. Who Is Goddess Kamakhya?
She is a form of goddess Parvati whose yoni is worshipped as Kamakhya Devi. The temple was built in the 16th century and follows the shakti cult. She is a goddess in the form of a 16-year-old young woman who fulfills the desires of her devotees. This was a site where animal sacrifice was prevalent as a way to offer to the goddess. Over a period of time animal sacrifice has been banned.
2. Kamakhya Devi Temple Location: Where Is Kamakhya Devi Situated?
Kamakhya Devi is situated in Assam. She is known as Kamakhya Devi because she cured the curse of Lord Kamadeva who was cursed by Lord Shiva that he will lose his virility. He prayed her yoni and regained his lost love and virility. This is also a place where Lord Shiva and goddess Parvati had secretive and romantic meets and made love. This temple is located on the Nilachal Hill in Assam.
3. Maa Kamakhya Temple History: When Was The Kamakhya Temple Built?
The original temple was built during the Kamarupa dynasty in the 7th century but was destroyed by Muslim invaders in the 14th century. The temple has been in ruins and has been rediscovered and constructed by the Vishwasingha of the Koch dynasty. He and his son Nara Narayana reconstructed this site and built it in the 15th century.
The material from the ruins of the temple was used to reconstruct the temple. Rulers from the Ahom kingdom also built this temple. It is said that Devi cursed the rulers of Koch dynasty and till date, none of the descendants even look at the hill or visit this temple. The Ahom rulers completed this construction of the temple and were since then taken as gurus for this temple as well as the management.
4. Kamakhya Devi Story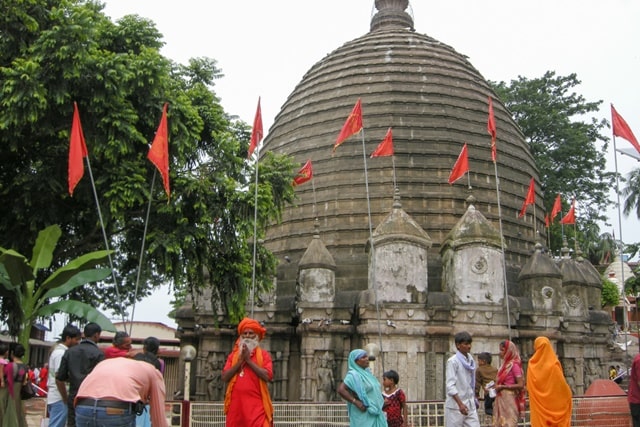 This is the Kamakhya Devi story, Goddess Parvati's father, Dakshya has performed a great yagnya, and did not invite Lord Shiva. Goddess Parvathi couldn't bear this insult and committed suicide. Lord Shiva couldn't bear this grief and did tandava, the dance of destruction. Lord Vishnu, to save the world, used his Sudarshan Chakra and cut the body of Sati into 108 parts and the yoni or Sati's vagina fell on the spot where Kamakhya temple is situated today. These places where her parts fell are known as Shakti Peethas.
5. Kamakhya Devi Chamatkar: What Is Kamakhya Temple Famous For?
Kamakhya temple is famous for fertility and fulfilling of desires. This is the goddess who symbolizes procreation. This place is famous for tantric worshippers as well as black magic rituals. There are many devotees who are childless come here for bearing children. It is famous for removing curses, black magic, ghosts, and dark entities.
6. How To Worship Kamakhya Devi?
Pujas and rituals are performed inside the temple by tantriks who do all the rituals. Animal sacrifice is common at this temple. The tantric do all the poojas and perform the rituals for people to overcome their problems and fulfill their desires.
7. Kamakhya Facts: How Many Steps Are There In Kamakhya Temple?
There are 150 steps to reach the top of the Nilachal Hill and the temple complex. It is good to visit the temple during the daytime and reaching the top of the temple is not difficult. The temple closes at 6 pm. Throughout the day there are various pujas and aartis that are conducted which you can attend.
8. Is Camera Allowed Inside The Kamakhya Temple?
Cameras and videography are strictly not allowed inside the temple. Even if you carry your mobile phones with you, you will not be allowed to take pictures of videos. Always keep your mobiles in the silent or vibrating mode when inside the temple.
9. How To Reach Kamakhya Mandir?
All 3 means of transport is available here. you can opt any one of them.
10. How To Reach Kamakhya Devi Temple By Train?
From Guwahati railway station is 8km away form Maa Kamakhya Devi Mandir.
11. How To Reach Kamakhya Mandir By Air?
Nearest airport to Kamakhya Devi temple is 18Km. Named as Lokpriya Gopinath Bordoloi International Airport Guwahati.
12. How To Reach Kamakhya Devi Temple By Road?
To reach Maa Kamakhya Devi Mandir. You can directly take the public bus or private taxi or auto, from Guwahati Station. It's a 30min ride.
13. Best Time To Visit Kamakhya Temple
Months between April to October are the best time to visit the temple. There are festivals during these months that you can attend.
14. Kamakhya Temple Timings
05:30hrs to 18:00hrs
15. Kamakhya Temple Darshan Tickets
Free
16. Kamakhya Temple Vip Darshan Timing
08:00hrs to 18:00hrs
17. Kamakhya Temple Vip Darshan Entry Fees
Special Maa Kamakhya Devi Darshan at 101INR per person.
Direct Maa Kamakhya Devi Darshan at 501INR per person.
18. Maa Kamakhya Devi Mandir Address
Kamakhya, Nilachal Hill, Guwahati, Assam, India.
19. Kamakhya Mandir Pincode
Kamakhya pincode 781010
Read More: Things You Should Know Before Going To Shirdi Saibaba Temple