The thrill in super-fast flowing river water is a pure joy for adventure fanatics in the summertime. India is counted as one of the thrilling places where plenty of adventure enthusiasts visits for enjoyment every year. With the emerging love for adventure sports, river rafting in India has become a must-try-activity to do once in a lifetime.
India is home to many rivers; adventure fanatics can enjoy the wild waters of rivers that are flowing through the heights of the Himalayas and creating a scenic view. Here is a list of places where you can enjoy the river rafting and fall of mighty rivers.
1. River Rafting Places In India
2. River Rafting Packages In India
Best River Rafting Places In India
Ganga River Rafting In India Rishikesh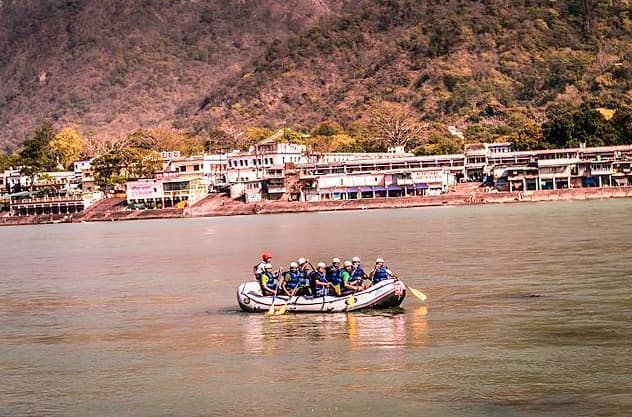 Counted as one of the best destinations for river rafting, River Ganga makes the experience of river rafting a heartbreaking thrilling moment for adventure enthusiasts. The river has a complete stretch of 16 km rich with enough of whirlpools and rapids ranging from grade 1 to grade 4. Rishikesh is well-known for its shivaliks and river rafting and both serve the pleasure of living to travelers. The best time to visit Rishikesh for river rafting is in between September to June.
Brahmaputra River Rafting In India Arunachal Pradesh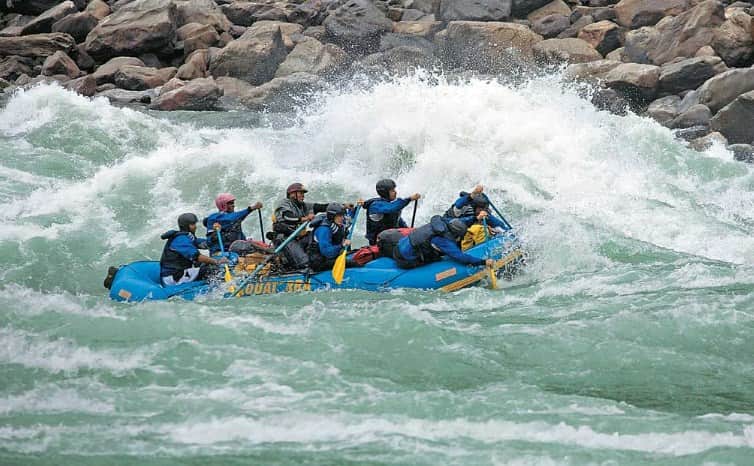 River Rafting here in Arunachal Pradesh started when the flow of river finds its way down the Tibet region crossing the Greater Himalayas. Those adventure fanatics who want to experience ferociousness of the river while enjoying river rafting should go here. The level of wild waters of rivers here is rated at Level 4 to 6. Some thrilling rapids names including 'Pulsating Pulsi' and 'Toothfairy' are the craziest jolts to watch in your lifetime. The best time to visit Brahmaputra river is November to March, travelers can also enjoy river-side camping.
Barapole River Rafting In India Coorg
Coorg is well-known for its natural beauty and is considered as one of the peaceful destinations to travel to. It is very exciting to add some thrill at such place and thus, people love to do river rafting in the water splashes of River Barapole. The river also offers a scenic view as it falls down from the Western Ghats and creates rapids of level 2 and 4. It is very amazing to see that the rapids here in the river: the upper section of the fall has 4 to 5 rapids whereas lower section has approx 6 to 7 rapids altogether.
Kundalika River Rafting In India Maharashtra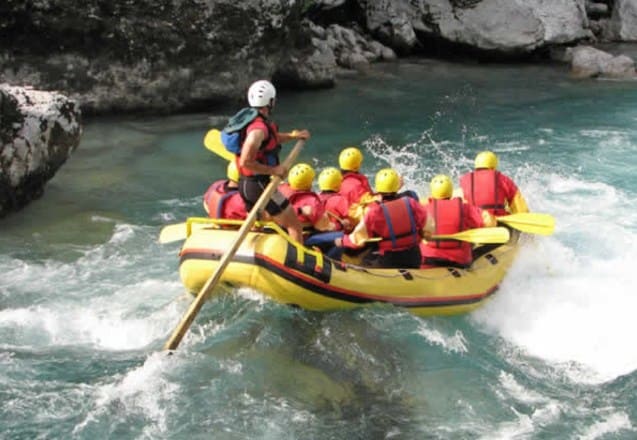 Situated at Kolad, Kundalika River is one of the fastest rivers flowing in the South region of India. River rafting enthusiasts can enjoy the adventure of wild waters in the south of the Himalayas. The stretch of the rapids is 15 km approx, ranging between grades 3 to 4, which offers a thrilling experience to anyone seeking adventure. The real fun of rafting can be experienced during Monsoon season when water is at its highest level.
Indus River Rafting In India Ladakh, Jammu & Kashmir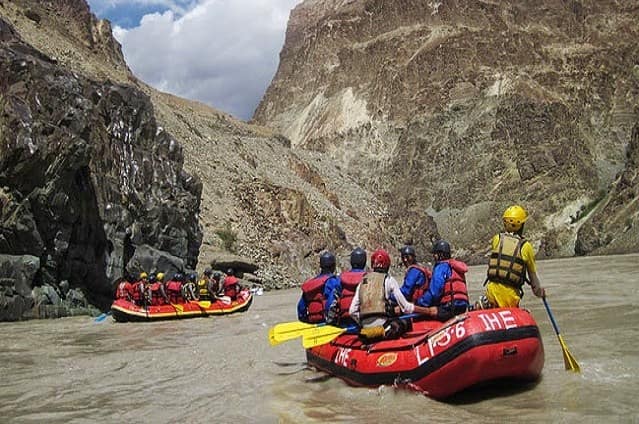 Ladakh, one extreme cold destination, also offers the thrilling opportunity of river rafting via beautiful Indus River which starts from the Tibet and crosses the cold landscape area. With breezing wind and cold gestures, enthusiasts can experience rapids of a different level from grade 1-2 to grade 3-5. The river provides extra excitement while crossing the challenging route lies in between Alchi and Khalsi as the rafter meets with kilometers long way of thrilling rapids. Best time to feel the breeze here in Indus River in June to late August.
Beas River Rafting In India Kullu- Manali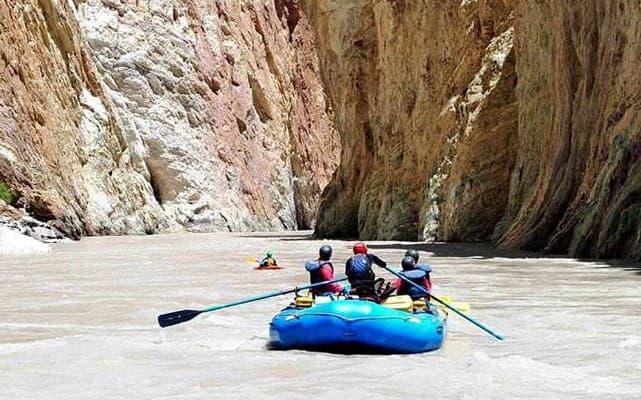 Covering the wide area starting from Pirdi while rafting 14 km down to Jhiri, rafters can enjoy rapids of grade 1 to 4 here in the Kullu Valley. Enthusiasts can enjoy the thrills of water along with the scenic views of the mountain in between the months March and July. The Beas River has a stretch of 14 km where one can enjoy the river rafting with excitement. Kulu- Manali is counted amongst the top tourist attractions in India where adventure freaks, couples and, family trips are made wonderful memories that stay lifelong.
River Rafting Packages In India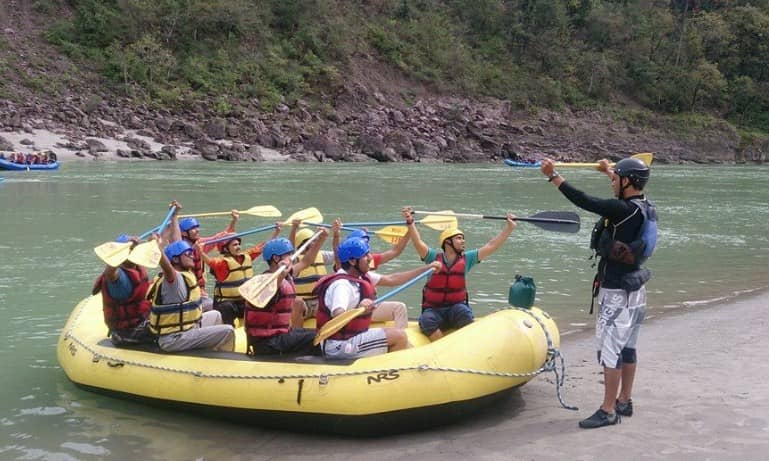 Adventure enthusiasts plan trips with friends and family to adventure the thrills flowing within the rivers which sometimes not happens as we planned and thrilling excitement ends with worst experiences. Below-mentioned is some of the River Rafting packages available in India:
Red Chilli Adventure (redchilliadventure.com) offers a variety of river rafting packages at reasonable prices. Some of the thrilling packages include Ganga River Rafting from Marine Drive (3 hours 30 mins duration), Shivpuri Down White Water Rafting ( 2 hours 30 mins duration) and Sarayu River Rafting Expedition (4 Nights/ 5 Days).
Indian Holiday PVT. LTD. (indianholiday.com) has affordable river rafting packages which are covering many regions. River Rafting on Ganges Tour, Brahmaputra Rafting Tour and, Alaknanda Rafting Expedition are some of its popular tour packages. Check their site to know more details.
This information is purely for rafters knowledge and we do not advertise any tour packages or company.
The best time to visit varies for each destination however, adventure enthusiasts can experience every possible river rafting tour one-by-one. Everyone should feel the water splashes of a super-fast flowing river once in a lifetime. Such thrilling experiences can bring moments of happiness as well as moments of sadness only when you don't follow the basic rules of rafting carefully. Enjoy the adventure of rafting with complete responsibility and don't forget to aid your life with the raft jacket.
Happy Rafting!!
Read More: Scuba Diving In India