Travel Guide To Kufri, Kurfi is a small but beautiful hill station situated in the Shimla district of the Northern Indian state of Himachal Pradesh. It is located in the south-east part of the hilly state and is about 20 kilometers away from the iconic state capital of Shimla. The entire town lies at an altitude of 9000 feet above the sea level and is one of the favorite tourist destinations for people, especially for honeymooners, hailing from different regions of India and even the outside world, in some cases.
Though somewhat eclipsed by the landmark shadow of the immediately recognizable Shimla, Kufri offers a welcome and much-needed respite from all the hustle and bustle of the constant influx of tourists that the state capital of Shimla experiences.
1. Places To Visit In Kufri That Definitely Should Be In Your Bucket List
1.1 Himalayan Nature Park
Himalayan Nature Park is a prominent landmark of the hill station and is essentially a small-scale zoo that houses a varied and great host of wildlife like different bird species and wild animals like deer, snow leopards, bears etc. The park also houses a number of different mountain vegetation in order to convey that inimitable mountainous aura and aesthetics to the visitors. Many of the tourists have remarked of being enchanted and impressed by this place that also helped them to appreciate the natural beauty to the fullest extent. And it makes a worth going Places to visit in Kufri.
1.2 Places To Visit In Kufri: Indira National Park
Indira National Park is situated just near the above mentioned local landmark. Tourists generally appreciate and visit this place because of the scenic ambiance and for taking part in various recreational activities like pony riding, cafes, restaurants, bars, video game parlor etc.
1.3 Kufri Fun World
Kufri Fun World is Places to visit in Kufri a great amusement park tailor-made to give a fun and frolicking experience for people of all ages and sizes. It also has the highest Go-kart racing track in the entire world.
1.4 Places To Visit In Kufri: Mahasu Peak
Mahasu Peak is the highest point in this area. Tourists in Kufri need to visit this point at least once as this sightseeing point offers visitors an unmatched view of the grand and iconic Himalayan mountainside spreading across hundreds of miles.
1.5 Nearby Kufri Places That You Must Visit
The environs and surrounding rural and wild areas around Kufri are just as enticing and adventurous as the hill station itself. For example, Fagu is a mountain village, located at a distance of 6 kilometers from the place, which is a hotbed of perhaps the most exhilarating of all winter sports, skiing. If you, the visitor, have the interest and the adventurous spirit to take part in such an exhilarating sporting activity, be sure to take the time to visit this wonderful rural Himalayan shanty. The little village also contains one of the best sights you will experience in your life with its rolling green valleys, apple orchards and the indomitable peaks of the Himalayas in the background.
2. Activities In Kufri Things To Do In Kufri
2.1 Sightseeing
Sightseeing is one of the most love Activities in Kufri. Being located in such a hilly and mountainous region, it is no curious fact that Kufri offers its visitors many points which might, at first, seem to be tailor-made for sightseeing. Honestly, places like the Mahasu Peak and the mountain village of Fagu will offer you such picturesque and scenic viewpoints that experiences like that may come at most once or twice in your lifetime.
2.2 Skiing And Other Mountain Sports In Kufri
Skiing And Other Mountain Sports are also famous Activities in Kufri. Among all the attractive activities and beautified places in Kufri. Skiing might be the most popular attraction that has been acclaimed by both tourists and the locals of the place. Nothing compares to the feeling of sliding down the snow-covered mountainside at a high speed. And if you happen to have an adventurous disposition, it is greatly recommended that you try this at least once.
2.3 Picnic And Other Recreational Activities In Kufri
The spring and summer months in Kufri is when the entire region truly opens up. And flaunts its beauty and attractiveness to the fullest degree. With the wild and bountiful forests, a cool climate and the entire aesthetic of the valley reaching a peak. It is the perfect time to organize and execute picnic activities in the midst of this beautiful place.
3. Hotels In Kufri
As a visitor, you must realize that Kufri's entire economy is largely dependent on the tourism industry that caters to all types of visitors within its city limits. As such, there are quite a few legitimately good quality hotels, all of which are laser focused to provide you with the best services at the best prices imaginable. Top-of-the-line and first class service providing hotels like Treebo Snow View Resort, Royal Tulip, Galleu Hill Resort and Kufri Holiday Resort are some of the more well-known and better-reviewed establishments that are completely succinct to satisfy almost all your needs.
4. How To Reach Kufri
There are many mediums and ways by which one can reach Kufri with the assistance of various modes of transportation. Shimla happens to be the center and also the most prominent point of all facilities in the state. Tourists traveling by aerial modes of transportation can land in Shimla. And then travel to the small hill station either by road or by train depending upon their suitability. Kufri is at a distance of 20 kilometers if you happen to travel by train while experiencing the picturesque views of the Himalayan valleys. And the curious aura of toy trains that connects the entire region by rail tracks. By road, Kufri falls at a distance of about 13 kilometers away from the capital. And various modes of road transport like taxis and buses (both AC and Non-AC) are readily and widely available for the benefit of the general public.
5. Food In Kufri: Restaurants In Kufri
Being a relatively prominent tourist location and itself being largely dependent on the same. There are many restaurants and other food joints available in Kufri that will guarantee. The complete satisfaction of your various gastronomical requirements. Establishments like The Northern Lights, The Café Kufri Terriers, Club Tethys, and many others are established. And experienced enough to satisfy every type of customer needs and preferences. Though there is no prominent cuisine that is an original of Kufri itself. The various eateries and restaurants provide a wide variety of first-class quality food and beverages that may be available in the major city across the country.
6. Climate In Kufri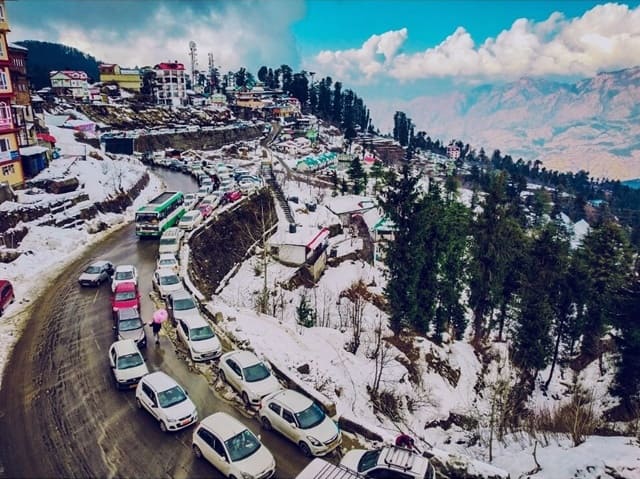 Except for the severely cold winter months. The small hill station of Kufri experiences a relatively calm and cool climate almost all year round. But, the summer which lasts from April to mid-June and having an average temperature of 12-19C. Is the best time to visit and experience the place to its fullest degree. Although the summer months experience the largest tourist traffic throughout the calendar year. The winters also experience a significant amount of winter sports enthusiasts arriving in the town.
All things considered, Kufri is an underrated tourist location when compared to the iconic ones like Shimla and Manali. The tourism industry of the town is truly commendable. And the services provided by various establishments are also satisfactory, to say the least. If you happen, at any point in time, take the effort to visit this beautiful scenic. And the picturesque place, it is dearly hoped that this guide shall come in handy.
Read More: Best Place To Visit In Darjeeling City