Manali is one of the famous tourist attraction of India which is located in the state of Himachal Pradesh. Often resembles as a resort town and hotel in Manali, Manali is situated 6726 feet above the sea level and thus, offers a peaceful and delighted stay to adventure enthusiasts, couples and, families. Nestled on the Beas River, this destination fulfills tens of thousands activities in Manali trekking and skiing adventures every year.
Not only adventures but this destination are also known for its comfortable as well as luxurious stays. From resorts to 5-star hotels, business stays to family trips, Manali offers a comfortable home to everyone. Choosing one best resort or hotel for your stay will enrich your travel experience and allow you to enjoy adventures in a more thrilling way.
Activities In Manali And Activities To Do In Manali
Resort In Manali
Staying in the best resort while tripping for Manali is a must to add enchantment to you Manali adventures. From budget resort that compliments your pocket while servicing you with the best to luxury resorts that will match to your expectations, Manali is home to some beautiful resorts situated at perfect locations.
1. Quality Inn River Country Resort
Address: N-H-21, Rangri, District Kullu, Manali, Himachal Pradesh 175131
Enriched with luxurious decor and classy architecture, River Country Resort in Manali is located off the busy Mall Road and offers scenic views of valleys. Travelers who are looking for a destination stay nestled in the foothills of Himalayas must consider this luxurious resort.
Amenities:
The Resort in Manali offers 54 spacious and well-appointed rooms to stay. All of the rooms are well-equipped with modern amenities like tea/coffee maker, complimentary breakfast, flat-screen TV, mini-bar and electronic safe. Fitness Centre, Game Room, Steam Room & Spa, Sightseeing facilities, Trekking, Horse Riding, River Rafting and other adventurous activities are available.
2. White Meadows Manali
Address: Prini village, Manali Naggar Highway, Kullu District, Manali, Himachal Pradesh.
Nestled in between natural beauty, White Meadows is one perfect destination stay for honeymoon couples. The Resort offers scenic views and comfort of the hills which is delighted to feel itself.
Amenities:
Guests can select rooms from the wide variety of accommodations that are well-equipped with all basic modern amenities. The Resort In Manali offers the opportunity to enjoy River Rafting, Trekking and Rock Climbing to its guests.
3. Mannualaya Resort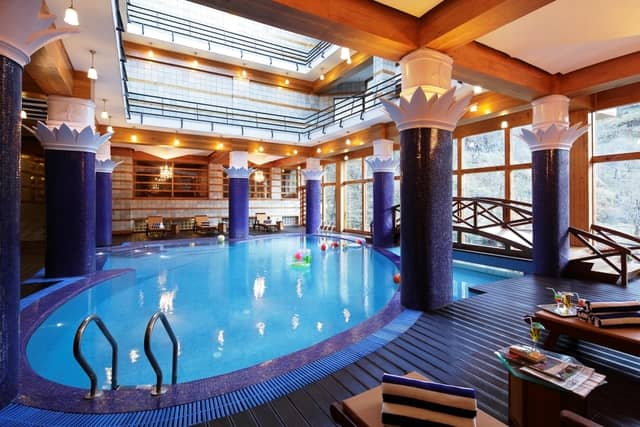 Address: Sunny Side, Chadiyari, Manali, Himachal Pradesh 175131
A one-perfect destination for newly married couples, Mannualaya Resort is located in the natural surrounding of pristine white snow and adjoining mountains. Offering multiple mesmerizing views, the resort is best-suited for travelers looking for peace and comfortable stay.
Amenities:
Spread over 5 floors, the Resort In Manali has 55 spacious and luxuriously-appointed accommodations equipped with modern amenities. It also offers all kind of facilities to its guests and also arranges adventure activities or concierge on demand.
Best Hotel In Manali
Experience a delightful and cozy stay in Manali while getting all the services is not a hard goal to claim. Here are some of the best 5-star, 3-star and cheap hotel in Manali located in Manali to make your Manali trip a memorable one!!
1. Rock Manali Resort Manali
Hotel In Manali: Rock Manali is located nearby Beas River and is surrounded by the mesmerizing Himalayan mountains. This 5-star luxury hotel offers free Wi-Fi along with all the possible modern amenities and facilities to its guests. From business class to family, the hotel is a perfect stay for everyone.
2. The Himalayan Hotel Manali
The Himalayan is a 4-star establishment and is surrounds by the Himalayas. It is a castle-style hotel which is best-suit for newly married couples. Equipped with all modern amenities, the hotel also has a lounge with a fireplace inside, terrace sitting and an outdoor pool.
3. Rock Manali Hotel & Spa Manali
Rock Manali Hotel & Spa is a 4-star establishment, setting aside the Beas River and surrounded by the Himalayas. This boutique hotel has spacious accommodations that are well-equip with all the modern amenities along with 24-hour room service. Here breakfast buffet and parking are free facilities.
4. Hotel Honeymoon Inn Manali
Hotel In Manali: Hotel Honeymoon Inn is a budget-friendly hotel situated at a perfect location in Manali. The hotel offers a comfortable stay to its guests along with 24-hour front desk service. The newly married couple can select this hotel to make their Manali trip remarkable!!
Activities In Manali And Activities To Do In Manali
Manali is home to many adventure activities among which most thrilling ones are mentioning below:
1. River Rafting In Manali
Phirdi to Jhiri is one known route for rafters who are roaming around the Manali. Whether enjoying it as a activities in Manali or family activity or friends fun, River Rafting gives chills to every person who aided the life with rafting jacket. Pirdi, almost 40 km away from Manali, is the start point of the excitement which later navigated to Jhiri. The route takes around 45 minutes time to complete and offers rapids ranging from grade 2 to 4.
2. Trekking In Manali
Manali is a considerable destination to enjoy trekking; it has something to offer to trekkers of any level. Providing lots of routes and ways for trekking, the half an hour trek to Rohtang Pass is one of the famous trekking spots in the Manali. Trekkers who are looking for magical experience can take the route that starts from Gulaba and lies 15 km down the Manali trails. The route covers deodar forests and Lake Bhirgu within the trekking experience way as well.
3. Paragliding In Manali
Activities In Manali is a place where even skies are the crowd; the excitement of getting high, loud screams and lots of adventure to explore is what makes Manali a paragliding spot. From 10 mins to 30 mins trek, Manali allows adventure enthusiasts to do paragliding up high in the sky.
4. Manali Skiing
The slopes of the Himalayas lying in the Manali are an adventure to try itself; generously and automatically it will give you the best skiing experience. Consider as one of the developing sport, skiing is nowadays supporting the most of the enthusiasts in Kullu and Manali. For beginners, Solang Valley three-and-half feet snow route and Alpine Premier League are perfect slopes.
Read More: The Ridge Shimla Hotel